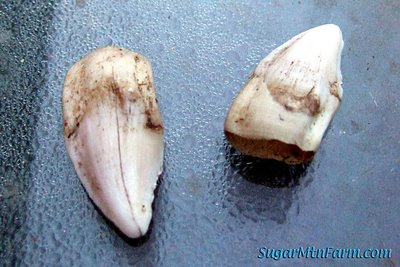 These are the tusks from the upper jaw of the skull of a two year old sow. They're about 1.5″ long. Pigs like to chew rocks and you can see cracks in the teeth which perhaps resulted from this habit.
The first time I ever looked at tusks like this I was quite surprised to discover they were hollow and actually quite thin. The edges are serrated like a steak knife instead of being smooth and pointy like a wolf's canine teeth.
We have just finished planting all the gardens and are moving on to more fencing projects. After that we'll get back to construction on the tiny cottage, building more animal sheds, fencing the north field and the mountain field. It is warm and although the days are still getting longer they never seem quite long enough to get all the projects done.
Someone pointed out an interesting difference between the northerners and southerners. For his family in the south the summers are a hot time making it hard to do outdoor things. It is a good time to retreat inside with an iced tea and do visiting. Ironically, we're still drinking hot mint tea with breakfast to get warmed up and have a quilt on the bed.
In contrast the summer is a very busy time around here. In the north we have a very short warm season during which we must plant, fence, build, harvest and what ever other outdoor projects there are to complete before winter locks us in again. It isn't just in farming. Back around the beginning of May all of a sudden there were lots of construction projects starting up as people rushed to get going on building houses, barns, roads and bridges so they would be completed before snow flies. Many sections of highway and bridges are closed or divided as the state work crews rush to fix last winter's damage before the next winter makes road work next to impossible.
Although I suspect this is changing with urbanization, we traditionally do more visiting in the late fall and in the winter when the land is frozen under snow. Life slows down a bit and we can't do as much outside from perhaps November through March. Winter is followed by mud season which is just a good time to stay off the roads. Then during the spring and warm months we have to work fast to do planting, construction, fence work and harvesting while the conditions allow. Last year was a remarkable fall – we kept building outside into December which was very unusual. Normally we would have had snow in October. A white Halloween is not unusual here on the mountain and a white Thanksgiving is normal even down in the valley. And, Bob, Christmas is always white – even in 2006.
Generally we expect our last spring frost in late May but it often June 15th or so before I would consider it safe. We keep bed sheets and blankets ready to cover sensitive crops like tomatoes and use cold frames, made of old patio doors and windows, to extend our season. We also spread wood ash on the fields to sweeten the soil, like liming, and to darken the snow so it will melt sooner.
Last year in the spring we had a stretch of warm weather in late April/early May – many people, myself included, planted early thinking maybe we could get a head start. Then we got cold rains that drowned the corn and everything. We ended up doing three corn planting last year and it was still a poor crop. Many other crops did poorly. On the other hand the year before was remarkably good with a long warm fall. I'm glad pastured livestock is our primary income as last year would have been a killer if we were dependent on corn. The animals deal with things like that much better than crops do.
We've had snow in the middle of July a few times and typical first frosts are about August 27th. The first week of September is almost guaranteed to have frost. Since we are on a slope we actually do better than our neighbors in the valley where the cold air settles in the pockets giving them an earlier first frost than us even though we are higher on the mountain. The trade off is the snows arrive earlier up here, stick faster and leave later. Higher up the mountain the effect is even more dramatic. I must admit that in the spring I covent my neighbors' lush pastures down in the valley where they green up easily a month before ours – they cut first hay a week ago.
Ironically, after last year's experience with the failed corn crop I waited until our usual planting time this year so as not to waste seed and then it turns out I could have planted back around May first and I would have been okay. Predicting the weather is a fine bit of sorcery.
Speaking of teeth, check out Ben's post at Sugar Mountain Life.
Outdoors: 79°F/55°F Sunny, Brief rain 1/4″
Farm House: 72°F/70°F Fencing south field paddocks semi-permanent
Tiny Cottage: 73°F/69°F