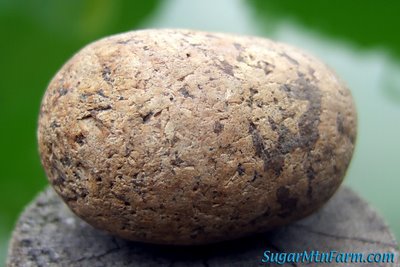 This little round rock is a traveler who's off to see a friend. I found it in our mountain where the really round rocks are few and far between. Pablo has many more round rocks but then he had help from a meteor strike. [1, 2]
Most of the rocks I find when digging are jagged or rough. Often they're squarish, broken along crystal lines. This one looks to have been smoothed in a stream perhaps or ground by glaciers. Maybe both. On the exposed sections of mountain ledge you can see the scratch marks the glaciers left. They look like giant cats or bears clawed at the rocks.
The photo makes the rock look bigger than it is. In reality it is only about the size of the end of my thumb. Another funny little aspect of this particular round rock is it has my monogram on it – naturally formed by the minerals in the rock – WVJ.
Yesterday and today I've been transplanting my seedlings from their cold frames. I'm a bit behind and they're looking crowded in the flats. Fences to do. House work seems to be held off. Soon…
Thursday-Friday Outdoors: 76°F/55°F Heavy rain, lightning Thursday, Sunny Friday
Farm House: 71°F/66°F
Tiny Cottage: 70°F/64°F