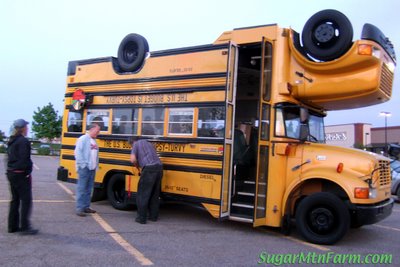 We saw the wildest sight today in Burlington, Vermont. Actually, it was Taft's Corner near Williston. We had gone up to the ST Griswold concrete warehouse to pickup white Portland cement for the tiny cottage stucco walls. In the parking lot of one of the malls was an upside down bus! No, wait, it was right-side up with another bus on it's roof! Wait, no… it's two busses that appear to be co-joined twins! How topsy-turvy that bus is. I have been collecting photos of weird vehicles, especially gas guzzlers, so I had to go get a picture.

The woman who drives the bus explained that the Topsy-Turvy Bus is the brain child of Ben & Jerry's Ice Cream founder Ben Cohen. The idea is to protest the crazy state of affairs with the United States Federal Budget. See their web site at SensiblePriorities.org. They intend to follow various political candidates around to get attention to their cause. Actually, it is all of our cause since it's our taxes.
Turns out the gas mileage of this crazy creation is not quite as bad as I had guessed. She said they get about 9 miles per gallon with the current diesel engine driving across the country from California. While that is nothing to rave about it is much better than some of the motorized beasts I have in my photo collection. She also said they're working on converting it to run waste vegetable oil which will help make it match it's mission a bit more still.
I try to remind myself that this isn't real money, it's just trillions…
Outdoors: 58°F/39°F Partially Sunny
Farm House: 63°F/58°F
Tiny Cottage: 59°F/51°F got white cement