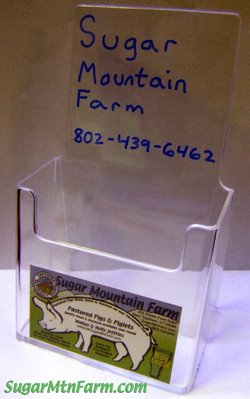 Counter Top Literature Holder
In our journey towards retail pork sales one of the hurdles has been getting commercial liability insurance. It has taken quite a bit of time, months more than I expected, but that is another story. Along the way we have also applied with the state for the wholesale meat license. So, while I've been working on these things, or more often waiting on them, I've also been working on marketing materials for our pastured pork.
Dan, at Dan & Whit's General Store, one of the first stores that will carry our pastured pork, had suggested a brochure. The goal is to let people know how we raise the pigs, that we're local, naturally grown, help with brand recognition, and provide some cooking suggestions, recipes and links to additional information.
Mid-week I realized that if there's to be a brochure then we should put it into something rather than having it sit flat on the counter. That will make it more visible, more likely to get replenished, less of a mess and take up a minimum of counter space. Thursday I did a web search on acrylic display suppliers and found this one from Azard Displays in New York. Friday they arrived on my doorstep. Wow! I had not expected them so quickly. Holly pointed out that we are within the one day UPS Ground shipping range so it shouldn't be too surprising they arrived so quickly. I still think it is amazing. Here I am on a mountain in the middle of the woods in the middle of the road in the middle of Vermont and between the internet and shippers I could be anywhere.
The clear plastic acrylic displays are very well made and only cost $1.20 in quantity 50. A business card taped into the front with clear PVC packing take looks great and personalizes the display. The packing tape is invisible. I wrote our farm name and phone number on the back of the display in permanent ink so that when the literature runs out it will be easy for the store to contact us for more brochures.
The business card is very similar to our meat label – the design of the brochure will be similar too. I also plan to transfer elements over to our posters. A unified theme helps with brand recognition.
The tri-fold brochure is in pencil & paper outline at this point.
Front panel:

Product
Brand recognition – label
Short claims
Contact info

Inside left panel:

Who We Are – Family on Farm Picture
Virtual Farm Tour Link – Blog
Our Herd – Herd on Pasture Picture

Inside center panel:

Certified Naturally Grown – Logo
Our Farm Practices

Pasture/Hay/Dairy/Etc
Rotational Grazing Betters the Land
Sustainability
Truly Free Ranging Outdoors, no crating
No Antibiotic feeds, No Hormones, All Naturally Raised, Not Fed Slaughter Wastes
Humanely Raised
Environmentally Friendly

USDA/VT Inspected
Vermont Buy Local Logo

Inside right panel: Pork Chop Photo

Retail Cuts Fresh/Frozen
Cured
Live Pigs & Piglets
Contact info

Back inside panel:

Cooking Tips
Grilling Tips
Favorite Recipes

Back center panel:
If you have any thoughts on things you would want to see on a brochure for pastured meat in the store let me know. When I have the brochure completed I'll post a copy here and would love to have feedback then too.
Hopefully by the time the insurance and licensing is done I'll have this completed as well. Sugar Mountain Farm pastured pork should be in select area stores in mid to late June.
Thursday/Friday/Saturday: (wow, consistency)
Outdoors: 54°F/34°F Overcast, Some Sun, 2″ Rain
Farm House: 67°F/57°F
Tiny Cottage: 63°F/51°F First parging of wainscot in kitchen