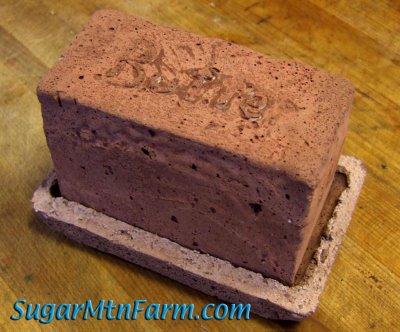 That is a concrete butter dish. I'm not sure if it will ever get actual use but it was a very interesting experiment. I made it by creating a mold frame out of 1″ pink foam insulation glued together with silicon sealant. I then coated the surfaces of the four mold parts with paraffin to create a very smooth finish. I think I should have used a soupier mix of concrete and I should have vibrated it more.
It is not perfect but still very a very interesting experiment. I was able to get very fine details such as my signature on the under side of the bottom of the base and the word "Butter" on the top of the cover. The base also has a foot rim around it just like slip formed ceramic dishes and plates. I had used a wooden chopstick end to carve the lines for the foot and words into the still soft paraffin.
The reason for this test is I've been thinking about how I'll create our sinks for the bathroom and the kitchen as well as the bathtub. The molds for these items will be a bit more complex than the ones we've done so far for shelves in preparation for the ceilings of the attic and loft. Still thinking…
Today we moved pregnant gilts out of their winter paddocks to the south field. Wow – Happy pigs! They were so very excited to see the green, growing grass and have more room to run. We lost snow in our fields a week ago and the fields have just firmed up enough to have the animals out on them in force.
Outdoors: 56°F/31°F Sunny
Farm House: 66°F/56°F
Tiny Cottage: 63°F/54°F order steel entry floor grating