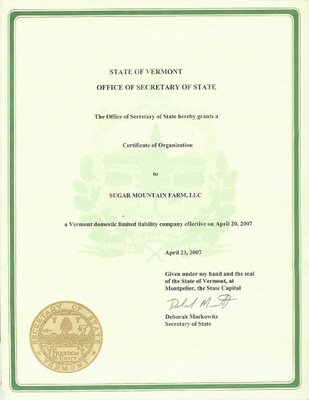 It is official – Sugar Mountain Farm is now a Limited Liability Company in the state of Vermont. We've been using the name since the very early 1990's but had never formalized it.

Perviously we had just sold piglets and whole pigs delivered to the butcher – all live animals. With the coming wholesale and retail sales in stores I have been investigating getting liability insurance and the insurance agents said to get insurance I must get setup as an LLC, Sub-Chapter S or some other corporate form. This morning I received the certificate from the Vermont Secretary of State making it all official.
I went with LLC because it seemed to be the simplest corporate form for the farm. With a single member LLC I don't have to file corporate tax returns but instead simply report our farm income on Schedule F of 1040 as we've done for years. Not having to learn and then annually do a whole new set of tax returns keeps life simpler and that is good.
This doesn't really change much on the farm but it is an interesting little milestone as we make our way towards sales of retail cuts.
Tuesday: Outdoors: 60°F/28°F Sunny
Farm House: 66°F/50°F no fire
Tiny Cottage: 57°F/51°F detail work
Wednesday: Outdoors: 59°F/29°F Mostly Sunny
Farm House: 64°F/50°F no fire
Tiny Cottage: 58°F/51°F detail work, research