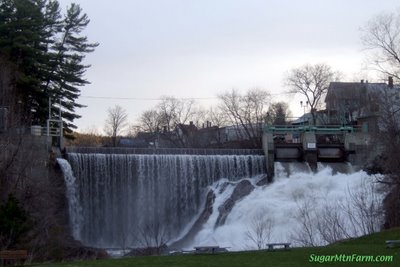 This is not my dam.
This is not my river.
This is not my falls.
Dam beautiful spring fall.
You might recognize this flowing cascade of spring water at the Bradford hydro-electric dam from when it was a frozen solid wall of water in February. The wall of water that was static then is now full of motion.
Yesterday morning our fields were covered in snow. Today the snow is almost gone. Spring is here!
Outdoors: 71°F/31°F Sunny
Farm House: 63°F/56°F no fire
Tiny Cottage: 59°F/50°F