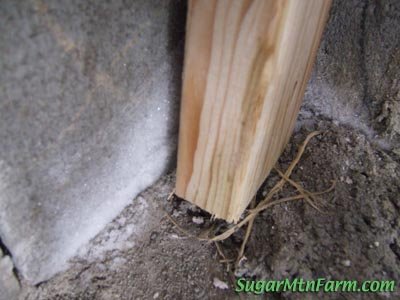 This is the north east corner of the cottage in the bedroom along the floor. What this photo shows is frost on the inside of the wall. This is the only place we had frost on the inside of a wall and it only happened when we had extreme cold and wind. The rest of the concrete was very well insulated so this didn't happen.

This is why the north east corner inside the cottage is cold. This little bit of concrete was exposed. I insulated it, the concrete warmed up and the frost on the inside of the wall went away.
What is fascinating is that the protruding rebar is not acting like thermal radiating fins. I had expected that to be the case and was prepared to insulate them but when I measured the temperature of the rebar inside the building it was not all that low. I'm sure we were losing some heat through the rebar but it was less than I expected.
Outdoors: 33°F/23°F Overcast, 1″ Snow
Farm House: 61°F/50°F two logs
Tiny Cottage: 53°F/45°F prep for library shelf