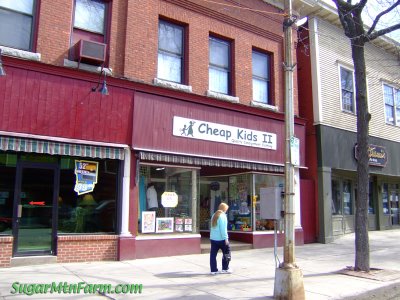 Own a store in a small Vermont town…
Cheap Kids II, a children's cloths consignment store in Barre, VT is for sale. It is a most wonderful store owned by Janice. We've clothed our kids over the years from her wares. She is selling it to move her work closer to home which is in Woodsville, NH. Have you dreamed of owning your own store, living in a small town, being your own boss? If you want a great business, contact the owner Janice about buying her store. Her work phone number is (802) 476-4413. It is in a prime location in the middle of Main Street in down town Barre.
Note that we have no connection to the store to it other than being a very happy customer. I hope someone buys it and continues it. It is a great opportunity for to live in a small town in beautiful Vermont. Barre is the next town over from Montpelier, the capitol of Vermont.
I live in Orange which is a bit east of Barre-Montpelier. Our area is one of the still affordable places where land and home prices aren't crazy and the cost of living is reasonable. So, if you've dreamed of moving to Vermont or the country but want an in-town business, check it out.
Link with map.
Update: My wife Holly just spoke with Janice and found out that the asking price for Cheap Kids II is $15,000. What deal!
Outdoors: 31°F/18°F Sunny
Farm House: 56°F/51°F no fire
Tiny Cottage: 57°F/46°F