If I go the commercial printing route it looks like I must get 5,000 labels printed in order to get to a reasonable price per label. Even then I'm at the wrong end of the cost curve but it's better than the next quantity step down by far. That means about $750 per batch of labels or about 15¢ per label. I need two different batches, one for each butcher. So that's $1,500 in startup costs. If either butcher goes out of business I'm faced with big costs again as well as when I need new labels.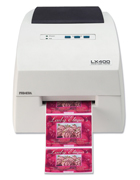 I may have found a solution to the problem of having to have two runs of labels from the commercial printer. I just found the Primera LX-400 label printer. It lists for $1,495 but retails for as low as $1,120. The LX-400 will let me print the labels in high quality 4800 dpi, much better than my 600 dpi inkjet printer, on rolls (makes the butcher's happy) for about 8¢ per label (ink+label stock) which is less than they are at the 5,000 quantity (15¢/label) from the commercial printer. I've requested samples and emailed Primera some questions. We'll see where that leads. A big question is how well the labels will stick to frozen items.
I'm also investigating sheet fed labels for my inkjet printer. The advantage of using my existing inkjet printer is I already have the printer thus saving space, electricity and $1,120 for the printer. The disadvantage is the labels are not as high a quality and I've yet to find ones with freezer quality adhesive. The Staples and Avery labels I've tested so far fell off in the freezer.
Holly says to go with the LX-400. Her point is that we've saved so much money on feed with the whey we should spend a little money to get the right label printing machine which gives us flexibility and savings. Quality labels will help sell products in the store and pay for themselves in the long run. Additionally the LX-400 labels are cheaper than the commercial labels unless we get into huge (>15,000) quantities. She's quite against the commercial printing of the labels because of the issue of having to get new labels printed if the butcher goes out of business. We've already had two butchers close in the last several years and another one, which we didn't use, burned down – fortunately we had no labels to worry about at that time.
Despite my penny pinching ways I'm incline to agree with her and splurge for the printer. It will be interesting to see the samples. As a side note I think it could also print bumper stickers and I would be able to print labels for other farmers helping with the machine's up front costs. An interesting idea.
Update 2008-01-26: I now have both the LX 400 label printer for labels and the Xerox 8560 printer for brochures & other printing. Check out this article where I discuss both in more detail as well as the printer we got for printing posters. Also, there you'll find out about how to get a free color printer.
Outdoors: 20°F/18°F 4″ Snow, Windy
Farm House: 61°F/49°F three logs
Tiny Cottage: 44°F/39°F door open