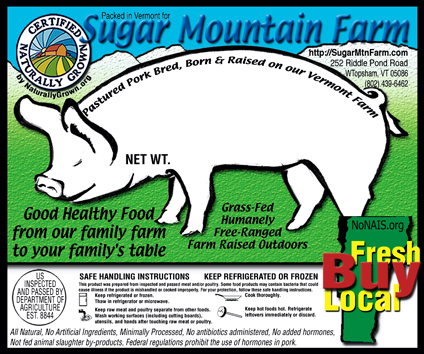 Retail Meat Label
This will be a boring post if you aren't interested in product labeling… I continue to plow ahead with the label design. Above is the latest with small tweaks here and there. Turns out we'll save 5¢/lb in processing costs if the Safe Handling Instructions are included on the label so that is back. This is because it saves the butcher time and labels.
I'm still working my way through reading all of the USDA regulations on labels that I can find. Very interesting stuff. With the deep snows we got today I figured it was a good time to do some reading. See:
I am getting my materials ready to submit to the USDA for getting the label approved. They say it is about two weeks from submission to approval in most cases. An label expediter like Prime Label Consultants in Washington, DC is $20. It isn't clear to me what I'm getting for that $20.
I've gotten quotes from several printers. The current best bid is from Growers Discount Labels who also happens to be the printer for Certified Naturally Grown so I've see what their labels look like and am pleased with them. They come well recommended from a reader.
Unfortunately I must print labels for each of the two butchers we use as the establishment number must be printed on the label. I'm not happy about that. I would be very interested to know who came up with this brilliant little idea:
Remember that you are dealing with a producer, farmer, and feedlot operator as opposed to plant management. They need to understand that the label is approved for use at a particular federally inspected establishment [slaughter house]. It does not belong to the producer of the animals. If he changes establishments in the future, he must seek a new label approval.
–USDA Claims Document
What that does is lock a small farmer into a particular slaughter house and force them to go through the USDA's hoop jumping every time they want to use a new slaughter house and get new labels printed for each and every slaughter house. This is unnecessary. Why was this rule created? Well, let's look at who benefits – it almost sounds like a nursery rhyme:
The Butcher – Slaughter houses benefit because they lock small farmers into using them since they can't easily switch to another slaughter house without going through the whole label re-approval and reprinting process which is damn expensive and time consuming.
The Banker – More money changes hands, the economy gets stimulated, churns and they take their little tithe.
The Printer – They get to print more runs of labels.
The Rulemaker – USDA bureaucrats benefit because it gives them more jobs.
That's four groups and I'll bet that at least two of the four were involved in making this rule so it is a conspiracy by definition… It would be fascinating to know how this came about. I doubt we'll ever truly know.
This hurts small farmers because it increases their costs and limits their options. This rule hurts the environment because it means more labels will be printed and wasted. This hurts consumers because it drives up food prices by increasing the cost of production. This rule hurts my sense of fair play. Bad, bad, bad, bad…
Just for the record, the USDA is incorrect about the ownership of the labels. I design them, I print them or pay for the printing, I own them. That's copyright law and basic property ownership law. The bureaucrats can't do a taking without Eminent Domain proceedings. That's the Constitution, the Bill of Rights, and not just a piece of paper. The USDA's bureaucratic regulations can't actually change that no matter how much they may like to believe so. Note that I'm speaking as a lawyer which I play in an alternate universe where reason, honesty and decency rule. :) I am not a lawyer in this universe nor do I play one in the movies.
It is also interesting to note this policy statement:
Non-Retaliation Policy All FSIS personnel, particularly those who make regulatory and enforcement decisions, are not to retaliate in any way against establishment owners, operators, or employees who have questioned or appealed regulatory or enforcement decisions. FSIS personnel who have engaged in retaliatory behavior may be subject to disciplinary action. (See also FSIS Direct
ive 4735.7, PDF Only) –USDA Policy Statement
Which all brings me to this bit of regulations:
(i) The official establishment number of the official establishment in which the product was processed under inspection shall be placed as follows:

(1) Within the official inspection legend in the form required by part 312 of this subchapter; or
(2) Outside the official inspection legend elsewhere on the exterior of the container or its labeling, e.g., the lid of a can, if shown in a prominent and legible manner in a size sufficient to insure easy visibility and recognition and accompanied by the prefix "EST"; or
(3) Off the exterior of the container, e.g., on a metal clip used to close casings or bags, or on the back of a paper label of a canned product, or on other packaging or labeling material in the container, e.g., on aluminum pans and trays placed within containers, when a statement of its location is printed contiguous to the official inspection legend, such as "EST. No. on Metal Clip" or "Est. No. on Pan", if shown in a prominent and legible manner in a size sufficient to insure easy visibility and recognition; or
(4) On an insert label placed under a transparent covering if clearly visible and legible and accompanied by the prefix "EST".
So, I'm trying to decipher that to see if it will let me print the meat label without the Est. Number so that the Est. Number can then be printed when the weight and cut are printed or hand stamped. I have a call in to the FSIS at the USDA. Details to follow. There is an intriguing reference to a "Dual Legend" which I am trying to track down into the regulations.
Why am I nagging at this task so? Well, because it appears that once I set the label in stone, er, USDA approval, it will be a pain to change anything. Thus it is very important to get everything right. Additionally I want to get it approved in the first go around rather than getting it rejected and bounced back to me which will add more time and expense. I'm learning all sorts of interesting things in the process so it is time well spent.
If you're interested, also see these older posts: Meat Label and Business Card Post and the Label Wall at the butcher's place. Also see tomorrow's post about the LX-400 label printing machine.
"You don't have to be nuts to see conspiracies in the government. Just read through their documents for a while…" -WJ
Friday:
Outdoors: 18°F/7°F Overcast, 2″ Snow
Farm House: 59°F/50°F two logs
Tiny Cottage: 54°F/46°F
Saturday:
Outdoors: 21°F/17°F Overcast, 23″ Snow
Farm House: 60°F/49°F four logs
Tiny Cottage: 53°F/44°F