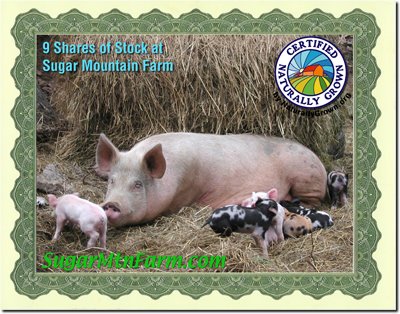 A friend sent me this:
"If you had purchased $1,000.00 of Nortel stock one year ago, it would now be worth $49.00. With Enron, you would have had $16.50 left of the original $1,000.00. With WorldCom, you would have had less than $5.00 left. If you had purchased $1,000 of Delta Air Lines stock you would have $49.00 left But,if you had purchased $1,000.00 worth of beer one year ago, drank all the beer, then turned in the cans for the aluminum recycling REFUND, You would have had $214. Based on the above, the best current investment advice is to drink and recycle the cans. It's called the 401-Keg Plan"
I don't drink beer or play the market so neither one of those will do for me and I've often heard the phrase about money or stock not being worth the paper it was printed on. So…
My retirement plan is in pork bellies. Five years ago I purchased $240 of stock. It is now worth over $141,000 and growing. During that time I cashed in many thousands of dollars of that stock a year. My stock is not affected much by oil price fluctuations, world market plunges, Wall Street, housing bubbles, etc. My stock also fed my dogs and my family. If my stock crashes I compost what the dogs or we can't eat – This lets me invest in the soil which is wise since all of my stock grazes my other asset.
Tuesday:Outdoors: 44°F/25°F Partially Sunny
Farm House: 61°F/47°F no fire
Tiny Cottage: 52°F/46°F
Wednesday: Outdoors: 49°F/31°F Partially Sunny
Farm House: 59°F/52°F no fire
Tiny Cottage: 54°F/48°F materials in for loft molds