Actual Sugar Mountain Farm Business Card
2007-03-17 Update: More reading, more changes… See Label Progress.
The meat label design seems to have gotten to a stage where it is undergoing only tiny tweaks so I wanted to make up a proof of it to see how it would really look when printed. I did some on my inkjet printer of course but the DPI is not as good as a commercial printing press. Proofs cost $25 to $40 from most printing companies. Then I saw that VistaPrint* was offering 90% off on their premium business cards. The label is about the same size as a business card so for the cost of printing a minimal run of business cards ($15 for 1,500) I could get a proof and a bonus of free business cards to boot. So I ordered some and they arrived today.
Artwork used to make business cards.
So now there is a business card of the meat label up on my wall in front of me at my desk and another on our refrigerator. I'm going to take some time to study it and see how I like it. Note: the actual business cards look better than the photo at the top, the blacks are blacker than the camera shows in the bright winter light.
I've also started hanging a few at the local bulletin boards and passing them out. I did make a slight modification to make it be a business card by adding our names but otherwise it is pretty similar. It looks good to my eye. More readable than the inkjet printed versions I had made. Since the last meat label update I had added mountains, the state outline and moved things around as several people had suggested. I also textured the 'grass' and put snow on the mountains.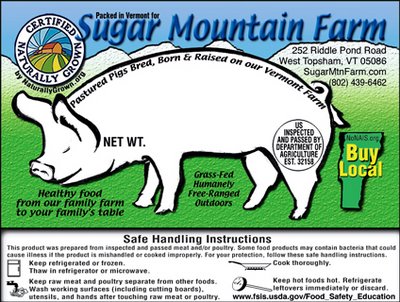 Meat Label version of design
The meat label is actually slightly taller in aspect ratio than a business card so there is space under the design for either the Safe Handling Instructions or something else. It turns out that the Safe Handling Instructions are already printed on the cryovac bags so I don't have to include them on the label. Let me know if you have any thoughts on things you would like to see in that added area or perhaps I should just expand the label to fit the larger space.
Please do leave comments here to let me know what you think. I really appreciate all the feedback people have given me!
2007-03-09 am Update: Here is a black & white version. I'm not sure what to do to suggested fax test – I don't have fax except from my computer and that would be a perfect digital copy so uninteresting even if I did have somewhere to fax it to…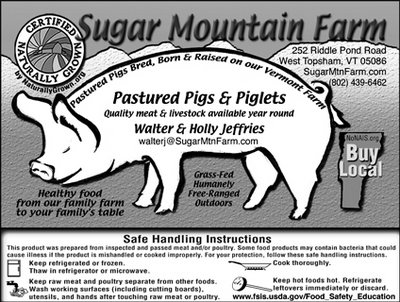 Meat Label in black & white.
2007-03-09 pm Update: Below is a version of the the label without the Safe Handling Instructions. My thinking is that perhaps the product information goes in that lower white panel. Then in the pig would be the same basic sort of information as is in the business card with the goal of making it look more personal. This also makes the business card and the label more the same and thus more recognizable. Let me know what you think.
Meat Label with space under for product info.
And here's what it looks up on the butcher's wall with the other labels:
The Label Wall at the Butcher
This is how the label looks in the meat case at the store: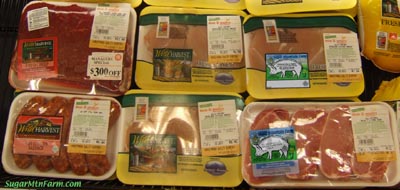 Meat Label on meat in store – Isn't Photoshop fun…
2007-03-12 Update: here's the label with the VT Department of Agriculture logo instead of the USDA. Some other minor adjustments as well.
Meat Label with VTDA logo
*Note that the VistaPrint link is a referral link. If you click it and then buy I get $2 in credit at VistaPrint and you get 25% off your order according to their refer a friend info.
Outdoors: 10°F/-24°F Sunny, Very Windy
Farm House: 58°F/50°F six logs
Tiny Cottage: 48°F/35°F showed cottage to Louisa