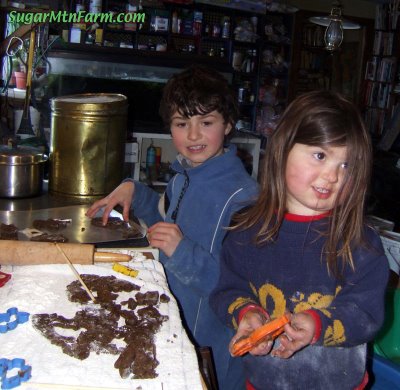 For Nothing Day we had headless ginger bread turkeys and ninja-bread men decorated with colorful sprinkles. We celebrate Nothing Day. This is a family tradition I instigated when our eldest son Will was a little'un. It generally happens in the cold of winter and for no particular reason at all. This time Hope said she wanted to have Nothing Day and Ben agreed to make cookies with her. Ben, age 10, can now follow recipes out of the cook books which means his repertoire is expanding infinitely.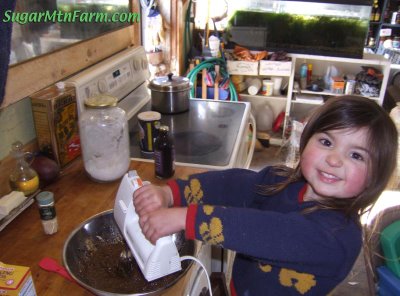 Teaching children to cook is an important life lesson, as well as being chemistry and home-ec. Will's been learning about the chemistry part, doing many batches of chocolate chip cookies to discover what variables make for the best results, or the worst disasters. So far almost all of them have tasted delicious and of course, in the interest of science, I force myself to eat them!
Teach your children to cook and you'll eat well for life – as will they and theirs.
Outdoors: 25°F/19°F Sunny
Farm House: 56°F/46°F no fire
Tiny Cottage: 57°F/48°F warm floor work