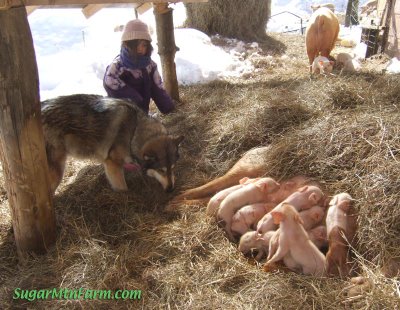 I bet you didn't know a Mouse could have piglets. One of our sows is named Mouse. Not because she was small, although she was, but because she has a picture of Mickey Mouse tattooed on her shoulder and her butt. She denies they're tattoos but they look too realistically like the Disney character's to be birth marks… really! I just hope she got her tattoos from a licensed content provider. I wouldn't want her running afoul of the copyright law as Disney is particularly vicious about such things.

But any ways, yes, our Mouse had piglets today and she is no longer small. In fact she is now one of the larger sows of her age group. She is farrowing along side Petra and the size difference is noticeable with Mouse being the bigger of the two. I would guess her pregnant weight at about 550 lbs or maybe even 600 lbs which puts her almost as high as her mother Little Pig. Little pig also started out smaller than her sisters but in the end was a fine big lady.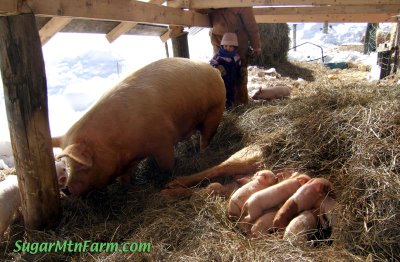 Usually it seems the sows farrow their piglets in the wee hours of the morning so that when I come out to check them first thing the piglets are already nursing gung-ho. When I checked mouse this morning she was still ambling around, working on making her nest in the house end shed that opens to the pond area. However she was not eating – generally a sign of impending birthing. An hour later I came down and found that she had buried herself in the hay leaving just her butt, back legs and belly exposed.Three piglets nursing away and as I watched another popped out.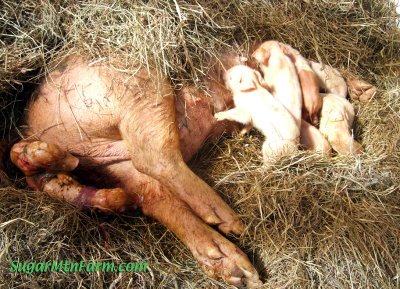 As Hope noted, babies are pretty bloody when they pop out. And pop they do. Giving birth for a pig seems to be a lot easier than it is for humans, in my observations. Of course, if baby humans were as small and had such tiny heads it might be easier. Mouse pushed twice and a piglet squirts out, sometimes two. The interesting thing about the blood, etc on the piglets is they clean themselves up very quickly. Those pretty ones nursing were not cleaned by the sow, me or even nurse maid Kita. Within a few minutes they're dry, dry and nursing away.
Interestingly, I got to observe my first breach birth, but first. No problem with it though and before I could even move the piglet freed itself and was moving towards Mouse's belly & teats looking big and healthy. Of the eleven born today, over a period of about two hours, there are nine big ones, one medium that I was a little worried about and one small one that Kita says is not going to survive. She kept removing it from the litter and I kept putting it back on a teat. I think she's probably right. While I don't generally do interventions we'll take that one inside and try bottle feeding it because it definitely is not nursing.
More trouble with blogger which delayed this from posting. I need to switch over…
Outdoors: 28°F/18°F Sunny
Farm House: 54°F/46°F no fire
Tiny Cottage: 53°F/48°F