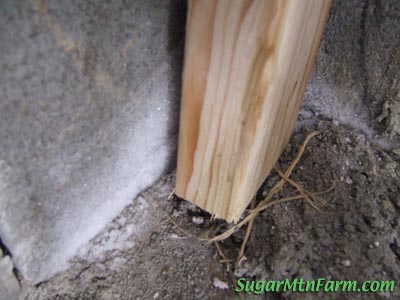 That right there is a cold corner. I had not quite gotten the insulation right on the north east corner of the tiny cottage down near the floor. During the deep cold and high winds of a couple of weeks ago, prior to the deep snows, we ended up getting frost on the inside of the corner of the house. Not what I wanted. No harm done though. I simply fixed the insulation and the concrete warmed up, moving the dew point out thus eliminating the frost inside the cottage.
Of interest, that was the only spot in the whole concrete tiny cottage where we had the frost creep through the walls. In the farm house the frost came in through the walls all over the place during the deep cold snap. The farm house is insulated but it is also >200 years old. I suspect that the combination of thermal mass, insulation and tightness is what makes the tiny cottage better handle the winter.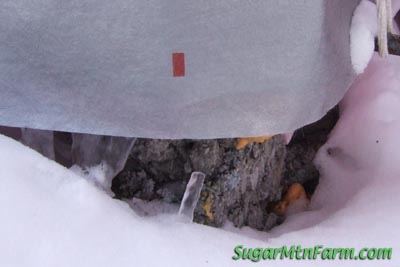 This is what the outside looked like before I fixed the insulation problem. There is exposed concrete and two pieces of rebar sticking out like radiating fins. Based on other spots, it is the exposed concrete that is the problem and surprisingly, not the rebar.
Now not only is the insulation fixed but we have about 3′ of packed snow so that spot is well protected. That keeps the cold and the wind away from the cottage.
Note that I've updated the Meat Lable based on comments. Take a look and give me more feedback. I'm interested in all feedback, positive, negative, etc. Doesn't mean I'll implement everything, but I do want to hear how people see it and their ideas!
The Noah Algorithm: You tell everybody a big bad is coming. You demonstrate how to survive the big bad. Most of them will call you a crank, question your sanity and laugh at you. You let the ones that won't listen drown. It's called evolution. -WJ
Outdoors: 21°F/17°F Partially Sunny, no wind
Farm House: 58°F/45°F six logs
Tiny Cottage: 53°F/46°F planning