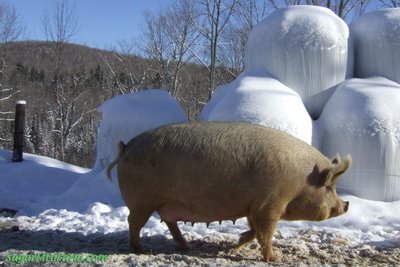 Little Pig at her pregnant peak.
Little Pig wasn't. Well, she was
little
when we first got her and her three sisters years ago but she quickly grew. Those four were our original sows. At the time we got them Little Pig was the littlest pig at a mere 10 lbs, only two thirds of her sister
Big Pig
. At the time they all seemed pretty little and it was hard to keep in mind that they would grow into sows that weighed in at 600 to 700 lbs each within just a few years.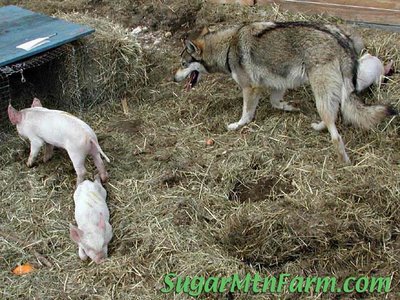 Kia watching over Little Pig, Big Pig & Soviet Pig.
This is her tribute post because she died during the blizzard on Valentine's day. More exactly, I killed her, out of mercy. Back on the "
To Kill or Not
" post
Granny Miller
had talked about one of the reasons for killing being out of mercy and that was what this was. I would not have chosen the middle of a blizzard for Little Pig's time. I would not have chosen this year. She was an excellent, well tempered sow in fine condition and a good mother. And no, I never told her that she was not as pretty or a little chubbier than her sisters. It would have been rude.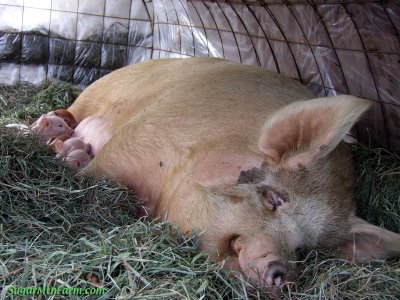 Little Pig nursing.
The issue that brought about her end was that this past week Little Pig had developed a
prolapsed rectum
.
ThePigSite
also has a page on this topic. While the Merck Veterinarian manual does talk of possible surgical interventions, that is really not a possibility on a small farm even if there were large animal vets in our area willing to make a farm visit and do it – which
there aren't
. Once before I've seen a small prolapsed rectum go down and the sow recover but Little Pig's was quickly worse. Wednesday morning while making my rounds I noticed it had doubled in size. By mid-morning it was far larger and more involved. She had gone off by herself and was now lying down in obvious pain. Examining her revealed just how bad it was – the responsible thing was to end her suffering.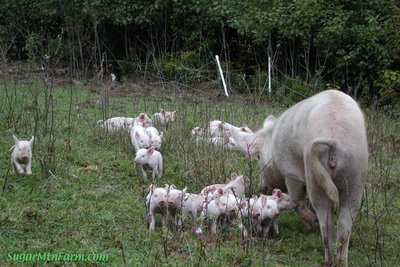 Little Pig in field with piglets.
Perhaps it is odd, perhaps ironic, that the day one pig should die in a blizzard would be a sad Valentine.
Nevertheless, researchers were afraid that https://sildenafilhealth.com can decrease the efficiency of doxorubicin in the treatment of cancer. Nevertheless, tests have proved that it actually enhanced the efficiency of the medication.
Outdoors: 19°F/14°F Sunny, some clouds
Farm House: 60°F/48°F six logs
Tiny Cottage: 51°F/45°F shoveled out, design work