Yesterday Ellajac of the blog Aspiring to Simplicity noticed the grower on the Butter Pig had a well hung package on his back end but her boar didn't. She commented on this and I asked her to send photos of her piggy's private parts. She obliged (above):
Walter,

Here are some pictures of my boar's backside. This will have to go down in the annals of personal history, because I've never gotten such a request before (and am not likely to again). :) They're not the best pictures; I only had whey for them this morning, and they backed me into a corner squealing and complaining at me. I kept them busy with some pizza crust scraps so I could get the shots, but still didn't have time to get very good ones.

As to the possibility of his being a barrow, I really don't think so. He's a registered purebred Tamworth and his price reflected that.

If this is a problem with the cryptorchid thing, and he is sterile, is that something I should/could talk to the breeder about? His value seems quite diminished if he's got the drawbacks of possible boar taint without the benefits of reproduction.

I really appreciate your taking the time to help me in this.. uh… delicate matter. Feel free to use the pics and/or message in your blog if you feel it'd be beneficial.

EllaJac
Idaho
EllaJac,
Thank you for the photos of the back side of your boar via email. I think your boar is indeed a boar, I see no scar from castration. It is possible that the scar is hidden and thus your boar is a barrow but I doubt it from what I see in the photos.
His scrotum is indeed very flat, not at all like a breeding boar. He may have unusually small testicals and with the cool weather he may have pulled them tightly to his body. If that is the case then I would expect you to see some bulge on his backside from time to time. But what shows in the photos does not look like that at all.
Assuming he is indeed a boar it looks to me like he is cryptorchidic. His testicles didn't descend which means they can not cool themselves to properly produce sperm. That probably means he is infertile – although no guarantee. They might descend later. Either way he should still have the hormones and the ability to act like a boar, just probably not viable sperm. This makes him useful only as a false-boar, to excite the ladies and get them into heat so a real-boar can do the job, possibly via artificial insemination (AI). That is done although buying a can of artificial "boar scent" is cheaper.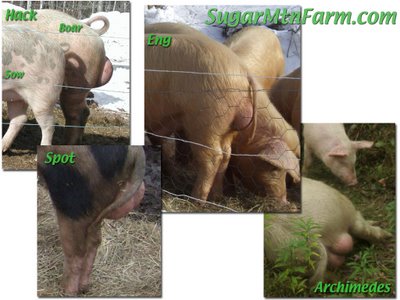 Above are the butt ends of some of our boars past and present to give you an idea of what to look for. Even on a piglet they are well rounded. See this article for another back side shot of a boar with the scrotum full as it should be as well as pictures of a gilt and sow.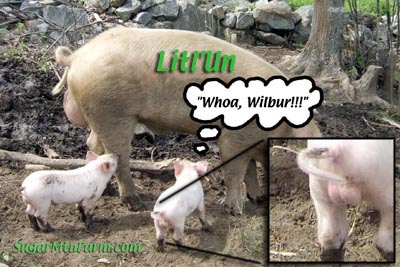 At a month old the boar piglet's testicle development typically looks like these two little guys who are admiring "Litl'Un's" equipment. As usual, click on the image to get a larger, closer view. By the way, Litl'Un is about ten months old in this photo.
When looking for a breeding boar one thing to look at is the size of the balls. Bigger is better as they have more capacity to produce more sperm. In a herd situation where he would have many ladies to service this is even more of an issue.
I just sold a gentleman a young breeding boar. I picked the best of several based on ball size, temperament and the fact that the young boar was doing all he could to demonstrate he could perform.
You mentioned that your boar is a registered purebred Tamworth boar and his price reflected that. If you paid extra for a breeding boar that turns out to be a barrow, small balled or cryptorchid I would definitely go back to the seller and ask for a refund on the difference in the price or a replacement in swap.
Outdoors: 11°F/0°F Partially Sunny, Very Windy
Farm House: 61°F/45°F six logs
Tiny Cottage: 43°F/35°F electrical work, planning, materials in to warm