Some of Petra Pig's new piglets.
Piglets have begun popping out here at Sugar Mountain Farm. The first arrivals were farrowed in the new house end
shed
. The sows appear to have waited until after that especially bitter cold spell we had. The weather predictions are for more mild temperatures soon.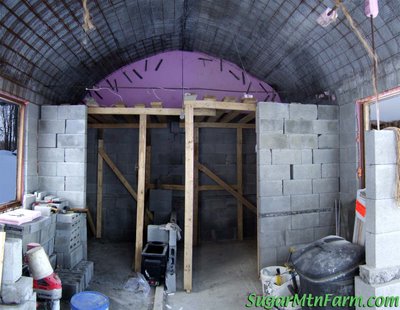 On the tiny cottage I got the partition walls up between the kitchen and bathroom and between the bedroom and commons room on the east side. I also worked up the design for the scaffolding of the kid's loft in the front half of the cottage. Holly and I then brought in lumber to begin warming for cutting tomorrow. Working with frozen wood is not worth it.
In the photo above if you look to the left you can see a stack of concrete partition blocks in front of the kitchen window. That is an approximate representation of how the counter will be. We plan to make the counters a little lower than the counters in our current kitchen in the old farm house which are uncomfortably high for children. Even Holly and I often work on the table when cooking, especially if doing bread, chopping veggies or the like. I think we'll appreciate the slightly shorter counters.
In other news, Big-Ag doesn't like losing business. One of their new pushes is to show that organic production and traditional farming are wasteful of resources. They make these claims by distorting statistics, interweaving half truths and claiming that factory farms (ugh!) are a better use of the land and resources because they use less land and are so concentrated and closed in. Of course, they leave out the horrendous smells from factory farms, pollution, over crowding, disease fermenting, environmental problems, bad working conditions, etc.
On the PasturedPoultry discussion list someone mentioned a research paper that refutes the Big-Ag's ludicrous claims. I was very interested to see this. Among other things he shows that "Organic farms require 30% less energy per bushel of corn.". While I agree with his low opinion of modern conventional agriculture I am not impressed by his statements:
"Meat, milk and other livestock products are far less energy efficient. Chickens are the most efficient animals in converting fossil energy to food energy, requiring four kilocalories for every kilocalorie of food produced, about the same as tomatoes. But pigs and dairy cattle deliver one kilocalorie of food energy for 14 kilocalories, and beef cattle are even worse at 40 kilocalories of energy inputs for every food kilocalorie."
What he fails to take into account is that livestock can use resources that are not otherwise useful for us to consume. A great deal of the landscape, both here in the USA and in the rest of the world, is not suitable for tillage. We can not grow crops well on our northern mountain pastures. The soil is too thin and rocky. The slopes are too steep. Tilling the soil would be highly destructive. On the other hand these pastures are perfect for raising pastured pigs, sheep, cattle, goats, chickens, etc. We feed no commercial feed yet we produce tens of thousands of pounds of healthy naturally grown pork, chicken, lamb, eggs, etc. The best use of our mountain pastures is raising livestock and lumber. They do that very well with minimal inputs from mechanization or petroleum.
If the animals can utilize resources that are not otherwise useful then they are a better choice than doing nothing or even worse, doing the wrong thing like cropping the wrong land. For example, the local organic butter and cheese company produces several thousand gallons of whey every week. For them that is a waste product left over from the milk separation process of making butter and cheese. They bring the whey for our herd of pigs which thrive on it in addition to the pasture. This whey is too small a quantity for the company to do dehydration on and sell the dry whey – an energy intensive process. If they did not have farmers like us they would have to dump this excellent source of protein and other nutrients into a septic pit and that is expensive as well as restricted. The pigs make excellent use of this resource and turn it into high quality gourmet meat for us and our customers.
Another example is a different local cheese cooperative that has trim from the production of their Vermont Cheddar cheese. The trim scraps would otherwise get hauled to the landfill but farmers like us take them and use the excess for animal feed raising pigs and poultry. Again, a 'waste' is turned into high quality food.
Yet another example is the outdated bread from the local bakery. This is a quality multi-grain bread and we turn it into even higher quality pork, chicken and eggs. Land filling nutrients like that is a waste. Using them is a positive savings in the equation. We're keeping them out of the waste stream, saving on feed and producing good food.
Recently the local large Shaw's supermarket chain approached us about taking the produce excess (out dated, trim, leaves, etc) from their stores. In this case I didn't take them up on it but hopefully they'll be able to work out a win-win situation with some other farmer.
Narrow views like Cornell University Professor Dr. David Pimentel's report fail to take into account the reality of the situation. You don't have to feed grain to livestock. A lot of people pasture cattle, sheep, goats, chickens and other animals. A growing number are pasturing pigs as well. We aren't using 40KCal to produce 1KCal of food like he claims. He's using the wrong assumptions equations for his inputs. We're using resources that would otherwise go to waste to produce food. The food we produce costs less than the 1KCal produced giving us a greater than 100% efficiency. Add to that efficiency the great savings on feed, savings on petroleum and keeping quality proteins, lipids, sugars and other nutrients out of the waste stream. It's a big win from small farms.
Outdoors: 13°F/1°F Partially Sunny, Windy
Farm House: 58°F/45°F seven logs
Tiny Cottage: 45°F/35°F Partition block up, lumber in