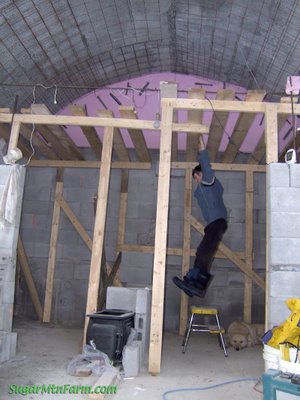 Monkey Ben on the scaffolding jungle gym.
Today Holly and I finished up the attic scaffolding over the bedroom and bathroom of our
tiny cottage
. This is progress, finally. It has felt like we were halted on the cottage recently. My excuse is the cold weather but we all did need a break as well as time to catch up with other projects that had been on hold from homeschooling to farm work. Getting the scaffold in place for the next big piece of cement work feels like we're finally picking up the pace again.
The scaffold will hold the form work for the ceiling of the bathroom and the bedroom which is also the floor of the utility room and attic respectively. We'll do partition block masonry up to the planks, make forms and pour fiber reinforced concrete to make the ceiling lock everything in place.
In the middle you can see the Vogelzang woodstove that we got to heat the tiny cottage. It is small but more than sufficient I suspect for such a small space. The tiny cottage is only 252 sq-ft but the stove is rated for 800 sq-ft. I must say that I am impressed with the quality of construction of the stove, especially considering it's low price of $139. Nothing fancy but I had thought it would be lighter gauge.

Above is a design for the scaffolding, forms and other details along with the cut plan. As a fine funny fellow asked "Are you working from plans in your head, or did you get an architect to do an initial design?". The answer is I'm the dreamer, designer, architect, engineer, builder and grunt. I do the plans out on paper and then eventually in the computer most times. I also do colored pencil perspective drawings so the other members of our team, Holly, Will, Ben & Hope, all have an idea of what we're aiming for. For simple details like this I often don't bother with doing digital blueprints but just stick with paper.
Outdoors: 14°F/-8°F Sunny, Windy, Fine light snow no accumulation
Farm House: 58°F/42°F six logs – got cottage wood
Tiny Cottage: 43°F/33°F back scaffolding done