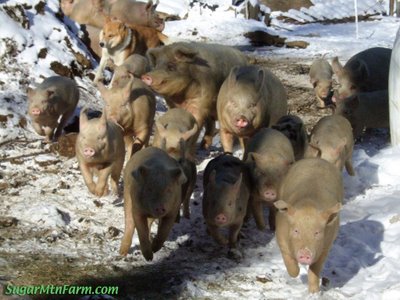 Pig herd running.
On yesterday's post CityGirl asked a very good
question
:
I've never spent much time on a farm or raised animals, and I want to know if it's at all difficult to raise animals for slaughter. I am a huge animal lover and would find it hard to not get attached to them to a degree and eventually say 'ok billy, let's go die now'. … Don't get me wrong, I'm glad there are people willing to raise animals humanely and give them a good life while they grow, but when I try to picture myself doing what you do, I inevitably think I couldn't do that. Unless I was starving. … I just want to know how you come to be in a place where you can do what you do and not be full of thoughts of death and life all the time.
I have shortened her question slightly above – Read her full comments here. It is a very good question and something I've thought a lot on as I suspect have many people. The answer is going to be different for every person. I love animals. I love keeping them. I love breeding them. I love raising them. I love working with them. I love eating them.
The alternative would be to be vegetarianism, veganism even. Done that, been there, got the T-shirt – several times. I didn't grow up on a farm. Unfortunately it is very hard to impossible to get a complete diet sustainably year round here in the north country if you don't eat more than just veggies unless you're willing to add supplements and vitamin pills. We have a short growing season, can get snow every month of the year and often have five to six months of snow and frozen ground. Canning only goes so far. Greenhouses only do so much. Complete nutrition issue is especially important for growing children.
If I am going to eat meat I personally feel, for myself, that I must be willing to kill, slaughter and butcher. I don't enjoy the killing – I get no thrill from taking a life nor am I inured to it – but I feel I must be willing to do it if I'm going to eat meat. I am very careful in my technique. Failure to kill properly results in pain for the animal, release of adrenalin and other chemicals in the blood, loss of quality in the meat, bruising and worse. A proper kill is instantaneous. There is no squealing, no thrashing, no gore. Death comes cleanly.
You might ask how I know that when I kill the animal feels no pain. I don't. I have no way of knowing what goes on inside another's mind. This is especially true when they can't come back and enlighten you. But, my wife Holly has told me that the first time I killed her (It was an accident, honest!) she felt nothing. She says that she simply ceased to exist. That is first hand testimony and about the best we can do. Someday I'll tell that story – it has a happy ending.
Slaughter is not for everyone. Holly is not willing to do the killing or slaughter but will help both before that with the raising of the animals and after that with the butchering. That is her limit. I respect that and I appreciate her contributions. My rule to myself does not apply to anyone else. I just feel that way for me. Each to their own. I think no less of you or her. There are things I won't do either.
There is also the issue of quality of life. My life is better for having known my food. As my son Will just pointed out, the animals' lives are better for having known me. What he means is that for them to grow up here on a small farmstead where they can roam mountain pastures as part of a herd is better than had they been part of a lot number in a factory, I hesitate to call it a farm, before ending up in plastic wrap. Life has a beginning as well as an end. What we do between those two points is what matters.
On the intelligence issue, I don't really have an objection to eating other intelligent beings. Recent research shows that plants feel pain and communicate. Am I to judge a brussel sprout? What loss does a head of lettuce or a carrot feel as it is eaten alive? The natural order of things is that we do eat and eventually we too are eaten. I hope the worms that eat me won't worry that I can beat them at chess.
I am an omnivore. Before killing, say a little prayer of thanks for what you eat, be it broccoli, peas or pork. Savor every breath. Appreciation is essential to the good life.
Outdoors: 31°F/6°F Partially Sunny, no shadow
Farm House: 57°F/45°F seven logs
Tiny Cottage: 50°F/43°F south middle window outer plastic & frame