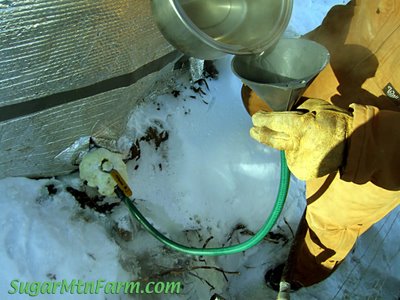 It isn't always possible to have water inside where it will keep from freezing. Maybe you've got a barn or shed that isn't heated. Maybe your water reservoir is up higher on the mountain like ours is. Some people put in electric heaters but I would rather not if I can avoid it for a number of reasons including ongoing costs, installation costs and just not wanting to have wires running all over the place. Thermal mass and insulation is how we keep our water from freezing. An insulated 100 gallon tank of water being supplied by a spring (+45°F) won't freeze even at -45°F if it is getting some usage. For our spring house we have 6″ of insulation and that has kept it frost free even during the longest, deepest cold spells.
Our whey tank is another example. It is 725 gallons which means it has a lot of thermal mass. We insulated the outside with the Reflectix foil-bubble-bubble-foil wrap, as sheet of Typar housewrap to protect the foil and then a snow bank on the north and west sides to buffer it from the wind. In an ideal world I also would have put on closed cell foam insulation but so far it has done fine without it. I would also loved to have buried it but the tank clearly says on the outside "Do not bury tank!" – oh, well.
Fortunately the tank gets emptied about every two or three days and then refilled with fresh realtively warm (36°F) whey thus importing new energy. The whey in the tank never freezes although on very cold mornings I do need to use hot water on the valve to unstick it. I feed a 1/2″ hose up through the opening of the 1″ pipe by the valve and pour in hot water through a funnel. That is what is happening in the photo above. The hot water drills right through the ice and warms the brass valve so I can turn it. About 1/2 gallon unfreezes the valve and lets breakfast flow to the pigs. The key here is that the green hose is a small enough diameter to slide up the valve fittings and allow the now cooler water to flow out back past it.
The valve is insulated but if it gets cold enough over night, especially if the tank was empty the afternoon before, then the valve will freeze. Since that photo I added more insulation around the outside of the valve which has helped.
Outdoors: 23°F/2°F Partially Sunny
Farm House: 56°F/45°F seven logs
Tiny Cottage: 52°F/43°F Outside plastic kitchen window