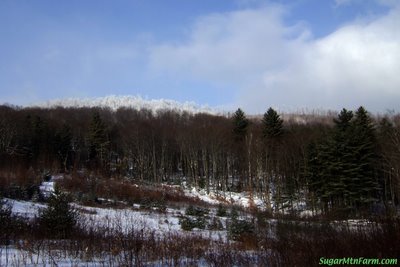 Sugar Mountain across the North Field
This is the view across we don't have from the tiny cottage – it is to our north. Perhaps we'll put a window in the tower…
It is finally starting to feel like winter. We are getting our typical dusting of snow every morning. Today was bright and sunny which warmed the cottage even though I was opening the door a lot so the temperature shows a drop. It felt cozy.
Our Christmas tree this year came from this field. We always cut it from somewhere on our land and as you can see there are quite a few nice ones there. It was blue spruce this year.
In the distance, out of site, is our sugar bush and shack beyond the big white pines in the middle right. To the left you can see a logging trail from bringing out a fair bit of junk wood as well as some nice lumber logs this fall. Sustainable forestry is one of the things we do.
If all goes well we'll fence in the north field this year and start using it for livestock. With a couple of years of intensive rotational grazing [1, 2] it will become lush pasture again after the last several decades of running wild. Then we'll be able to alternate between the north and south fields which has been a long term goal of ours. That is better for the land, better for the animals and naturally reduces parasites so we avoid using chemicals wormers.
Outdoors: 27°F/5°F 1″ Snow in morning, Sunny Skies
Farm House: 63°F/50°F eight logs
Tiny Cottage: 48°F/45°F prepped for window battens