Mists rolling own the Hills.
With the warm weather we've been having some incredible misty days. We're often up above the mists looking down into the valley at them. Other times there will be mists rolling down the fields. The shot above is of the latter although it does not show it as clearly as I would like. The trees are all covered in large droplets of water that make them gleam like chandeliers in the noon day light. The time of day that this happened is part of what is so odd. Very magical.
Apple Trees in the mist, West Topsham, Vermont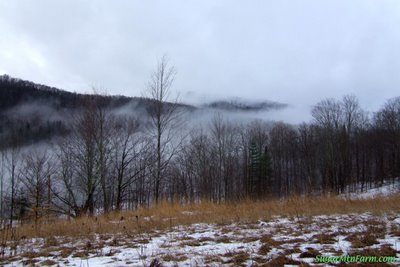 Valley Mists, Orange, Vermont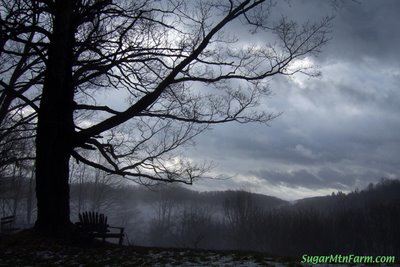 Old chair overlooking mists.
The mist is beautiful but the odd part is normally we would have a couple of feet on the ground. In fact, for the past 18 years we have never not had snow. We don't today.
Good Read: Recovering America – A More Gentle Way to Build by Malcom Wells, 1999
Outdoors: 39°F/27°F Partially Cloudy clearing in the afternoon
Farm House: 59°F/55°F no fire
Tiny Cottage: 67°F/58°F picked up around work site
Sunrise: 7:24 am√ Sunset: 4:27 pm