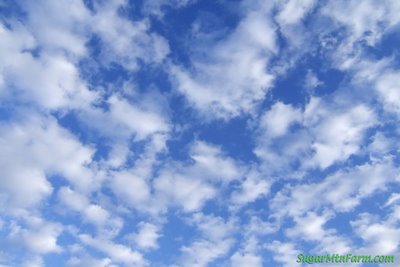 Blue Sky, Scattered Clouds
While we were feeding bread to the herd and weaner piglets to tame and train them this afternoon in the bright sun I snapped this most incredible picture of the clouds. I love photos of clouds. My father has a beautiful poster that shows many different cloud types and explains about them which I think he got from my grandfather. Someday I'll learn the names and what they mean. On my to-do list.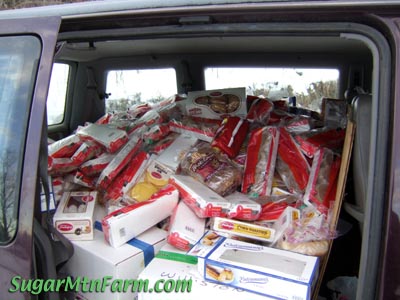 That is about two thirds of a van load of bread which represents four 'stacks', 40 trays or about 920 lbs of bread in the back of our mini-van a.k.a. pickup truck. That will last a long time across hundreds of pigs, maybe three or four weeks, since we don't get it very often and use it as a treat for leading and training. Since the pigs get almost no grain in their diet, they'll eagerly follow you anywhere for a slice of bread or English muffin.
Update 2014-08-28:I have often gotten the question of how much bread do we feed to our pigs. It isn't much and it comes in spurts but when we get some it gets stretched out over time. Based on the past twelve years of records I see that the pigs get an average of about 2.7 oz of bread a day which comes to 1% or less of their total diet. What really happens is on sorting days such as when we're picking pigs to load for market they get more of a treat and on other days they get less or none. In the summer they tend to get less and in the winter they tend to get more when the bread is more available because other people don't tend to raise pigs during the cold season. Since the pigs normally get little to none the bread makes a great treat.
I've mentioned before that we get goats milk whey, excess milk, cottage cheese, cheese trim. All of these are what are termed pre-consumer wastes that are excellent foods for the pigs. Together with pasture and hay they make up a varied and balanced diet for the pigs and chickens. Even the sheep partake. Recycling these food items into pork reduces the flow into the waste stream, helps the creamery and bakery and saves us money on feed. The pigs love it all.
Update 2016-02-24:Some people worry that bread will produce soft fat, overly fat or off flavor meat. I have not found that to be the case however it may depend on the bread you feed, how much and what else the pigs eat. Bread is a fine supplemental food. I have experimented with a few pigs free feeding them as much as they want to eat of bread with also having access to free pasture/hay and whey. Rather than gorging on the bread they only eat about 25% dry matter intake (DMI) of their total diet. The meat came out fine in every case. Typically we get a little dated bread every few weeks from a local bakery and it makes up about 0.5% to 1% DMI of their diet. I tend to use it for training – it is a very appetitive treat. It is very good during the weaning period too.
Feeding only one type of feed would not be ideal but the variety does them well. I've run the numbers for nutrition analysis as well as having several years of being able to watch the animals grow in real life. All of these are excellent feeds and the dairy makes the pork taste deliciously sweet.
But everything in moderation. I have read and spoken with several people who just fed bread and had problems with the pigs getting to fat. I can imagine that is true if bread is all they eat but with it being mixed in as a portion of the overall diet the bread should be a good food. Not only that but the bakery outlet where we get dated bread it is almost totally wholesome fancy breads, whole wheat and rarely any of the fluffy white bread. Good stuff.
I have also read that some people have had problems with feeding just milk producing softer fat in the bacon. In the last three years of feeding milk, cheese and now whey we have not seen that. Again, that may be because the dairy makes up a portion of the pig's diet rather than the whole she-bang. Our pigs get pasture and hay which nutritionally balance dairy very nicely. Variety is the spice of life.
Another difference I've noted is that all of the people I've spoke with who have had the above problems pen raised their pigs. The lack of exercise making for couch potato pigs may have contributed significantly to the excess lard. One solution in a pen situation would be to put the feed, water and bed all in different areas in the pen so the pigs have to get up and get at least a bit of exercise. With our pasture layout this is not a problem at all as the pigs are free to roam about two or more acres at any time. In fact, they have to walk about as their food, beds and water are widely spaced.
One irony in all of this is that our pigs regularly eat excellent quality cheeses and breads that I skip over in the store because they are just too expensive to buy. The pigs eat better than I!
So what are the economics of all this good bread? What if we were to use that as the only feed?

920 lbs of bread, 4 stacks, $20
1 hour time to go and get it
1 gallon gasoline at $2.50/gallon (~20 miles)
$1 wear and tear on the car
Actually, the time to go and get it and the petro, car wear, etc should be spread over other errands too but the bread was the primary reason for going in town so for the purposes of this math we'll dedicate it all to the bread.
6 hours time to process
The time is four people about 1.25 hours to unpackage all the bread, put it into barrels and pails and then cleanup plus the time to feed out the bread over the next three days. This tends to happen in a distributed manner.
$3.50 trash bill to dispose of bread wrappers
Total cash outlay $26 plus 7 hours of time (6 processing & feeding + 1 go and get). How do you value the time? You must feed the pigs anyways and that takes some time so really it shouldn't all be counted but let's compare it to automated grain delivery and self-feeder so we'll include all the time. Pick a number, any number, say: $10/hr -> $70 for the time -> $97 total cost for the bread.
That comes to 10¢/lb which is half the cost of bagged commercial feed (19¢/lb) and less expensive than the three ton bulk rate (17¢/lb) from the local grain mill. Organic feed is about 24¢/lb last time I checked. Those feeds can be fed as the only feed.
I wouldn't do that with the bread – in fact the pigs get very little bread which is what makes it so appetative. I want the pigs primarily eating hay (in the winter or pasture in the warm seasons) as well as dairy to get a complete balanced diet. Still, it is interesting to compare if one did just feed the bread.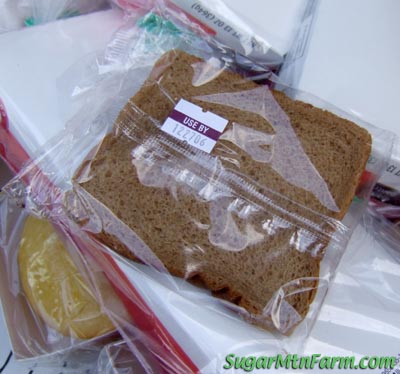 Speaking of expensive, today I saw the above item for the first time. It is a pre-packaged single slice of bread. How bizarre! I could not believe my eyes. What is our society coming to when individual slices of bread are being packaged and sold? "Care for a sip of water or a breath of fresh air with that slice of bread, sir? Just an additional $1.99 each." Of course, there are individually packaged pads of butter. Maybe I just need to get out more… Scratch that.
Outdoors: 31°F/14°F Sunny, Scattered Clouds
Farm House: 67°F/52°F five logs
Tiny Cottage: 55°F/48°F no work