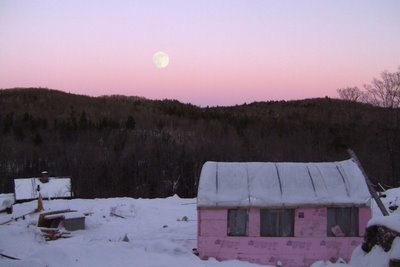 I feel dumb. I've been struggling with installing this door over the past two days. Today I went up to measure everything and order a new door. Peeking between the door and the block wall of the rough opening in the concrete I saw where a piece of foam was touching the middle of the handle side of the door frame. That little bit of foam was bending the side of the door frame into a curve. This lowered the handle side of the top of the door frame and racked everything. I don't know how I ever missed that before.
I cut away the offending foam, re-plumbed, re-leveled, re-shimmed and the door now closes smoothly. Sweet! After rechecking all the leveling, I screwed the base plate into the sill. Again I checked everything and the swing of the door before I hammer drilled two holes, one on each side of the door frame, into the concrete and screwed the door frame the wall. That locked the door frame tightly to the house.
The next step was to weatherize the air gaps around the door frame by filling them with foam. If you do this, note that there are two types of foam, at least. One is triple expanding which is great for filling large holes. The other is minimally expanding which is for use around doors and windows so that when it expands it won't bend the frame causing the doors or windows to stick when opened or closed. All I had left was triple expanding. My solution was to stick shims in between the door and the door frame all the way around. Then I foamed. The shims preserved the gap so the door would open and close smoothly without binding. It worked perfectly.

While the foam was curing I was locked in the tiny cottage. That is our only door and I had to shim and foam it from the inside. Our other means of emergency egress are two operable windows in the bathroom and the bedroom. Currently they have plastic on them as the windows aren't due to arrive until January 5th. Rather than exiting through the plastic I kept myself busy using up the remainder of the can of foam filling between the blocks in the dry stacked walls. Later we'll be parging but doing this insulating cuts drafts for now and goes deeper than the surface coating of fiber cement will. It's also kind of fun. :)


Getting the door on and right was exciting. It is a really nice door with a big glass full height window which we got for a really great price on surplus so I was not looking forward to having to buy a door custom made to fit the space! A happy ending.
Outdoors: 29°F/24°F Sunny, Some Clouds, 1″ Snow in the morning, high winds
Farm House: 67°F/56°F six logs
Tiny Cottage: 53°F/42°F