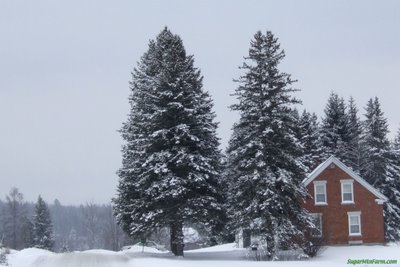 Just a pretty picture today. This is a quaint red brick house in Orange, Vermont on the Reservoir Road. I love the contrast of the trees to the house in this snowy scene. We see it on the way home and I caught this shot last year during a snow storm. Today it snowed so the photo seems appropriate.
Today was fix the car day. The inspection is due soon so I had to take care of a bunch of items. The side door fell off last night which made the matter more pressing. :) Got it all back together and I didn't even have to use duct tape. WD-40 was the solution this time, at least for one of the issues – a sticky lock mechanism in the driver side door that had then broken the lever rod grip so the door was no longer operate-able from the inside. Duct tape and WD-40 – the solution to all the world's problems. The side door was a bit more involved including removing the track blocks, straightening the track and resetting the rail. Hand tool work. The bother is that they insist on using so many different types and sizes of screws, nuts and bolts. The work would be much more efficient and the costs reduced if they limited the number of types and sizes but apparently this concept has not enter the auto industry. Design for production. Design for maintenance. Design for recycling.
Today I didn't get anything done on the tiny cottage, not physically anyways. I have been struggling with a design element in the ceilings over the bathroom and bedroom. The point where the two different ceilings meet is a bit tricky as I have two vaults of different widths coming together. I believe I've solved it with a beam over the marine aquarium (no metal allowed) and can now proceed. Rotating the stove proved the trick that led to the solution. That may seem odd but 'tis true. That moved the dining area out of the kitchen and into the front room which created more of an open space in front of the woodstove and under the cathedral ceiling. This resulted in shifting the paludarium to the east leaving space for a bench along the south windows were we can sit down to take off our boots when we come in or read a book in the sun. The doorways to the bathroom and bedroom also got wider which is pleasing. All of this is good.
Positively presenting procrastination? Make no decision before its time. All becomes clearer as we approach the problem. Problems in the rear view mirror are smaller than they appear. Hmm…
Outdoors: 31°F/14°F 2″ Snow
Farm House: 64°F/48°F two logs
Tiny Cottage: 53°F/45°F planning