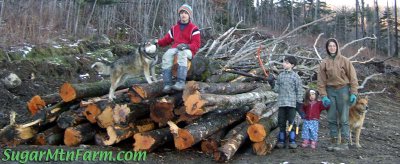 Here we are cutting our Christmas tree for 2006. We just couldn't make up our mind. They all looked so good when they were standing. After cutting them down they looked kind of spindly, like Charlie Brown Xmas trees. Gives a whole new meaning to trimming the tree.
Just kidding! This is our fire log pile – future firewood to be cut up. There is probably three or four years worth there. It is just up hill of the tiny cottage which will make getting it in easy.


This is the view to the north that greeted us over Sugar Mountain as we walked through the north field to cut our Christmas tree. Beautiful. Sugar Mtn is the dark ridge to the left. Knox Mtn and Butterfield are in the distance with the sun still on them.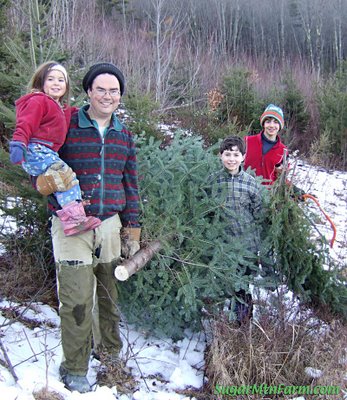 Merry Christmas Eve!
It snowed all day but nothing accumulated. This is the first year we've had no appreciable snow for Christmas since we've been here. Forecast looks like no serious snow into January. Interesting weather as discussed by Wayne at Niches.
No work on the cottage today as I still have a cough – why I'm not keen on parties. Did planning and thinking on how to do the loft and attic. Some good ideas. The cottage is amazingly warm already. Is it because the outdoors warmed up the last two days or because the of the tin foil cap?
Outdoors: 45°F/30°F Snow all day with no accumulation
Farm House: 59°F/54°F no fire
Tiny Cottage: 56°F/49°F no work