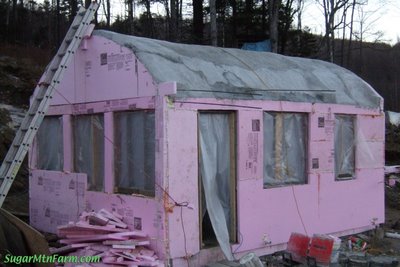 Pretty in pink is how the lady is. We are moving out of one pink house and into another. In the case of the farm house, it is only pink on two sides. Lloyd, the previous owner, had used pink siding, perhaps because it was inexpensive. Red, one of our neighbors down in the valley tells us that his granddaughter was always enthralled with our house because it was her favorite color. Hope, who also currently likes pink, has been telling me the same.
The tiny cottage is pink, but that is just foam insulation and thus a temporary blushing of the lady's under slip. Soon we will wrap her in typar, to cut infiltration and protect the pink board foam insulation. Then later she'll put on her coat of stone and blend back into the mountain landscape. Then she'll be more demure.
Today's big projects were that we finished all of the exterior wall insulation and removed the outside scaffolding in preparation for doing the roof and final wrap. Finally we can see the shape of the cottage without all that lumber in the way!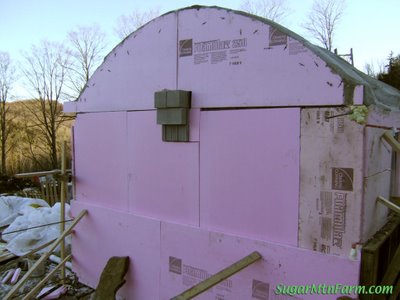 This shot from behind shows the second layer of pink board going on. It is purposefully positioned to protect joints in the first layer. As we add the second layer we foam the first layer's joints. The expanding can of foam acts as an adhesive with the timbers and rock holding the foam sheets in place until the space invader foam is hardened. The photo above shows the cottage before removing the exterior scaffolding. The thermal mass of the 100,000 lbs of masonry thus ends up inside the insulating blanket of 4″ to 8″ of pink foam depending on the side.

The last thing we did today was remove the trusses inside the attic that held up the wire form work for casting the concrete roof. That was rather exciting! I had everyone leave the building as I dropped the truss ribs. I had set it so that I could remove the screws and the trusses would drop like a house of cards. The one problem was I had to be inside to do that. I engineered it carefully but it was rather exciting to actually do – and very loud. Each spoke of the wheel of the truss forms fell in succession to the interior scaffold decking just as I had envisioned and the roof held!
I left the central ridge beam up as we don't need to take it down yet and I still need to walk on the roof to put on the roof insulation. In the photo above Will is beginning the process of passing the boards down to the first floor. Some are too long and they will be used as more decking while we pour the kids' loft and attic spaces. Then when we disassemble the lower structure we'll be able to get those long pieces of lumber out.
Outdoors: 39°F/25°F Sunny
Farm House: 55°F/50°F
Tiny Cottage: 53°F/47°F