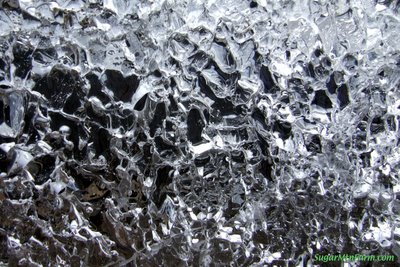 That is ice now outside the inside of a bucket. As it melted it revealed most interesting patterns. This leads us to thoughts of what this year's ice sculpture will be like…
The tiny cottage's temperature seems to be stabilizing. The tremendous thermal mass of the concrete is coming up to temperature. Each day it gets warmed by the sun a little bit more. Today was simply waiting as the roof cured.
Instead of working on the tiny cottage today we took pigs to market. Two trips for two pigs. They were bigger than usual and did not want to load together into our transport, a 1993 Dodge Caravan SE minivan that has been converted to pickup status. We added extra springs and built a plywood and 661010 Welded Wire Mesh transport box in the back where pigs go to market. This is removable for when we're hauling a ton of cheese, children or other things. So if you see a mini-van swaying down the road with pig noses at the back window you'll now who it is.
Getting pigs to market took all day. The butcher is an hour drive each way and the pigs who were supposed to go were not as cooperative about loading as I would have liked. This is our weakest task and something I would like to do better with in the new year. Winters coming, time to evaluate and plan for the next season.
Outdoors: 47°F/24°F Sun and Clouds
Farm house: 66°F/55°F no fire
Tiny Cottage: 55°F/45°F