Today we uncovered the west half of the roof on the tiny cottage so that we could work on that section. In the photo above you can see the completed east section of the barrel vault to the left, the truss work of wooden 2×4's that holds it all up and then the open wire form work to the west on the right.
In the upper middle of the picture is a section with no Welded Wire Mesh (WWM) which I use as a hatch to get up onto the cat walk above the roof for pouring concrete, floating it and laying lath. There were two of these pop-holes up until this morning but I covered over the northern one as we worked our way across the roof. I'm debating leaving the south hatch as a skylight – as if our tiny cottage needed more windows! Holly loves the idea. My one concern is heat loss but I've some ideas to play with on that. Plans are subject to change until cast in concrete. :)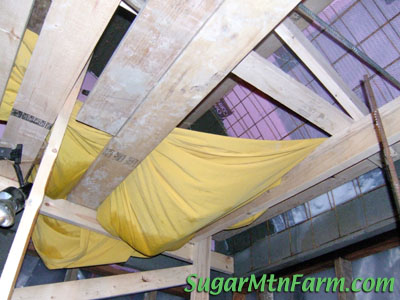 This is a old bed sheet that we used as a drape to catch falling concrete splatter to keep it off of Ben who was mixing mortar below. I really should have done that earlier for the whole place as it would make cleanup of the scaffolding easier. Live and learn.

The first concrete we poured was the west sides of the end arches (behind the pink foam forms and then the first band of lath on the roof to join them together. As we do the slower first layer of the roof we have cold joints in the concrete so I leave the surfaces rough. Later when we do the next layer it will all be unified. If I were shooting for the minimal thickness possible I would want to do the roof all in one pour. Since that isn't an option I over engineered it instead. That uses a little more material but will be more than strong enough.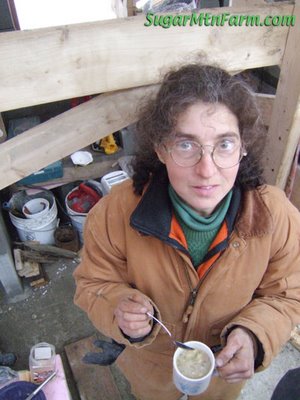 Hard working builders need hearty meals! Some days, rather than stopping Holly brings a meal up from the house. Today it was pastured pork loin sandwiches, apples, hot mint tea, lemonade and hot turkey soup which Holly made from the left over Thanksgiving turkey my mom gave us (Thanks, Mom!). Delicious!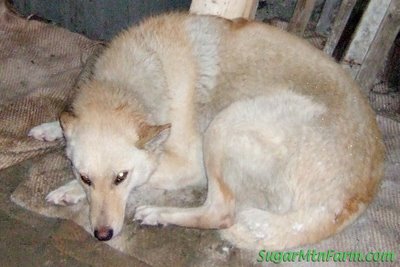 My little lady Lili laying down in the future bedroom. She's testing out some burlap bags to make sure they work as a dog bed. She and Kia came in to inspect our work – it passed and got the dog seal of approval.
Outdoors: 40°F/4°F Mostly Overcast
Farm house: 51°F/47°F
Tiny Cottage: 46°F/35°F Roof plastic off most of day