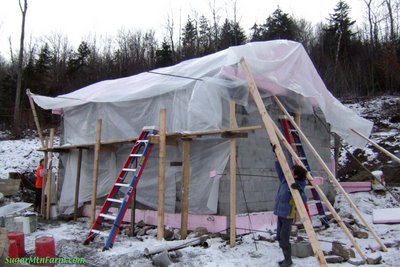 We have wrapped the house with another piece of plastic over the roof so there is now one going E-W and one N-S. This helped with keeping the heat in so the roof can cure. The internal temperature is now up to 46°F which is excellent considering it is 19°F outside.
I also removed the insulation from the area of the roof that does not have concrete on it yet so that the house can get more solar gain. Moving all our tools inside except the cement mixers and insulating the majority of the outside walls was our big task for the day as we let the barrel vault cure. Tomorrow or Wednesday we'll put more cement on the arch. What is there looks great and feels like it is hardening up nicely.

The moon rising over the hills to the east and some very interesting clouds greeted us at the end of the day.
Outdoors: 37°F/18°F Partly Sunny, 2″ Snow in the morning, Flurries most of the day.
Farm house: 54°F/48°F
Tiny Cottage: 33°F/46°F