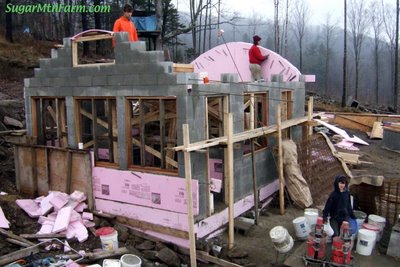 In the kids loft there will be an arched window. One of the first things I did this morning was setup the arch. It is going to be a beautiful space… It is very tempting to commandeer it!
While I worked on the window and other setup Holly and Will started putting up the end roof arch forms of pink foam. Will had cut four more this morning – I decided not to use full sheets since we would have to cut them later. This way the insulation is already in place and attached on the outside by toggles.
My brother Charles came up and helped us today. The hope was we would get to the point of pouring the concrete roof barrel vault but we didn't get that far. Still, it was great to have his help which got us that much closer to the pour.
One trick on the WWM – it has pokey ends that could scratch someone, take out an eye or inflict some other puncture wound. Not good. So we covered the ends with burlap bags – a simple and effective precaution. Likewise, the pokey ends of rebar are capped with hunks of pink foam, lengths that might trip wrapped with flagging tape or spray painted orange for visibility.

We ended the day with foam arch forms up, trusses up and attached by rib pieces, the 661010 WWM form work in place and our first piece of expanded metal lath wired up. It was a full day's work. We still have the rest of the lath, more WWM and four rebar ribs to place before we can begin pouring. Perhaps tomorrow.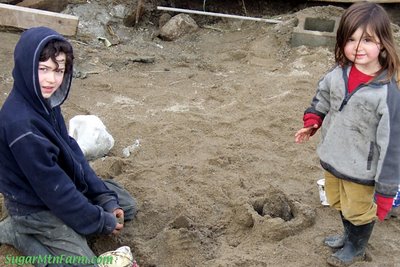 Today was a idle day for Ben – he was disappointed that he didn't get to mix cement. Instead he and Hope played in the sand pile, did balance beam and other projects. We've gone through about six cubic yards of sand! We just use sand in the concrete, no larger aggregate, because it flows so well and keeps the process simpler. I tested the Husky Mortar mixer with 3/8″ stone which worked fine. Large stuff, like 3/4″ and above, made the mixer sound like it would have trouble so I wouldn't use that.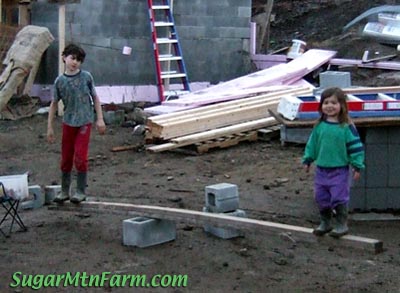 "Life is a balancing act…"
59째F/43째F Mostly Misty, Some Sun.