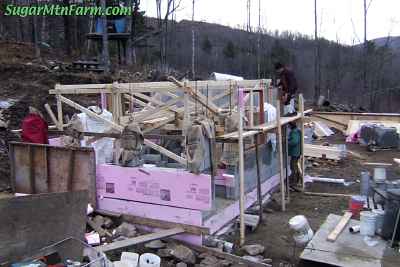 Today we finished cutting all the pieces for the windows. In addition to the actual window frames there are also parts and pieces to act as supports for the load of the channel block above while it cures. This made for a lot of sticks. Putting them together felt like playing with Lincoln Logs or Legos. It was really great seeing the window frames in place and having them define the views. The windows are big!
We are finally going to have a lot of light in our house – a major change from our old farm house. The colonial cape was built back during a period when glass was expensive and windows were few. Now I can get windows that are being discarded from big office buildings for almost nothing. They let the light come in to warm our rooms and keep the heat in – critical in northern Vermont!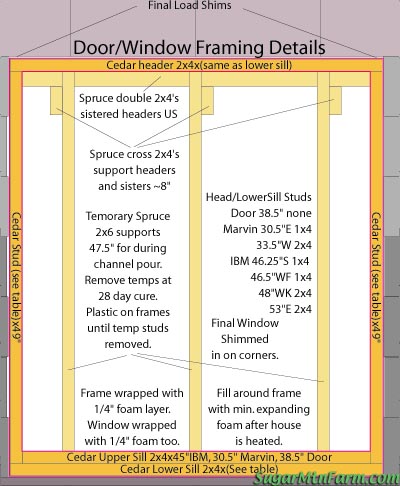 This diagram shows the basic concept of the window frames along with the supporting studs that will be there during the concrete curing period. I made one mistake, not all the of the window opening are the same size. In fact, none of them are. I had intended for them to be one of three sizes (two window types and one door type) but some how that got lost in translation. I figured out a good way to deal with that but it would have been better if they had standardized as planned. Live and learn.

Another thing we got done today was stripping off slab formwork that will soon be in our way as we put the final insulation on the outside of the house. In the process we got to take a close look at something that had greatly worried the concrete supplier. They kept pointing at it and calling it an endless hole where the concrete would just spill out. I was pretty sure it wouldn't based on the past five foundation projects I had done and it was fine. After removing the form from the side and base I got to look at it very carefully as the above picture illustrates.
Details: The concrete was poured at a 4″ slump in a 48″ high form (13″ ground to top of slab + 35″ slab to top of vertical wall) that was 7.5″ wide and 20.5″ long. The "hole" at the end of the form dropped down closed by 8.5″ and then opened to about 15″ high by 7.5″ wide.
What the concrete company guys kept saying was the concrete would just keep flowing out. It didn't. It only went about 10″ at the bottom making an angle of about 30째 which was about what I expected. In another spot I did a similar test with the 0″ slump concrete and that basically didn't flow out at all, maybe 1″ with working it. Concrete with so little slump is pretty stiff and doesn't flow well through holes. If I had it to do over again, which I will on other sections, I would use a 4″ slump on the whole pour.
The reason for the "hole" is there will be a foundation section that eventually continues out in that direction heading north. I wanted a rough surface to attach to. Thus also the piece of 1/2″ (#4) rebar sticking out of the concrete there above the ledge.
Ben and I removed a key diagonal brace from our scaffolding because everyone had bumped their head on it. Ouch! So I figured out another way using two pieces instead of one to achieve the same function and we took out the offending head banger. Will joked, or perhaps not, that if we didn't fix that we would all end up hunched over like Quasimoto.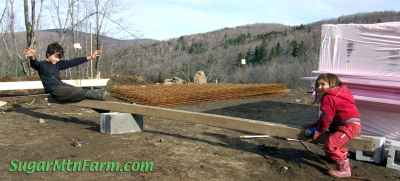 A homeschool lesson in physics fun!
"I think I can, I think I can…" -L. E. Thacood
46째F/22째F Mostly Sunny