Today we peeled the inner forms and laid up the first course of concrete blocks on our tiny cottage. This photo I actually took tomorrow morning when there was light since we finished up after dark when I could no longer take photos. We completed 18 blocks in about 4 hours. That sounds pretty aweful on the face of it but those were the first 18 blocks where we worked out a lot of details as well as corrected some minor problems in level (1″ off along the front edge). The first dozen blocks took most of that time with the last six laying up very quickly.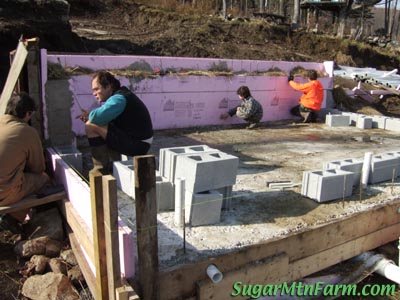 Here we have Charles and Walter intently discussing the intricacies of the first block of the day. E.g., who gets to lay the blocks and play with the fun toys and who's going to be the assistant. Very important negotiations!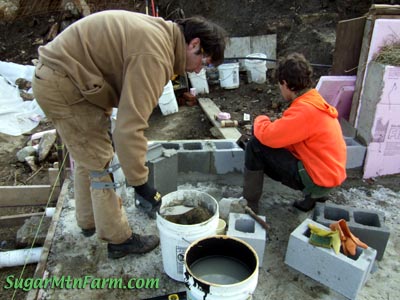 Charles and Will butter the ends of a stretcher block before setting it into the first course of the south wall. You might remark on how rough the floor is. That's okay, it is a sub-floor upon which we'll pour another layer of cement once we have the luxury of an interior to work in. Doing it this way also will further bond the walls to the slab and the rough unfinished slab will make sure we get a good bond with the pour of self-leveling concrete.
Ben the mortar master kept up, and even ahead, of us. Consider this math, chemistry and cooking lesson all rolled into one. Ain't homeschooling grand! Ben applied formulas, learned to gauge the mix and pace the machine. Ben is using the Husky brand mortar mixer from Home Depot. Honest, I don't get a endorsement payment!
Here we have Will splitting concrete blocks in half to make half blocks for the ends of courses beside windows and the like. He split about 44 end blocks in two hours or so producing 86 half blocks – only two broke. End blocks split neatly and out of all the ones that Will did he only broke two halves – that's pretty remarkable! It is a lot of work and the reason I had ordered the ill-fated missing cube of half blocks. I had hoped to avoid splitting blocks but we made the best of it working with the materials at hand.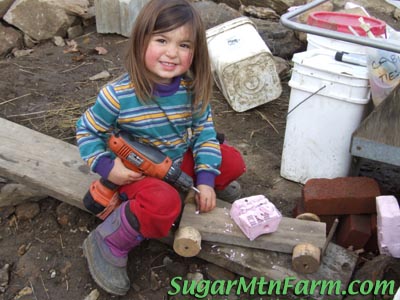 And what construction site is real without a calendar girl working on her spiffy sports car? Hope with her favorite power tool!
55째F/28째F Sunny