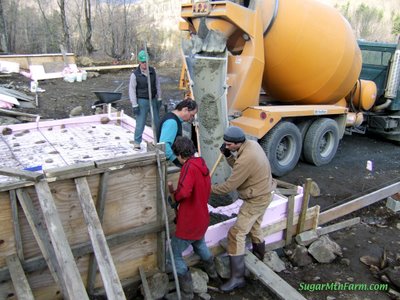 Today we poured the slab, east wall and south wall section of our new tiny cottage. The machine shown above is a specialized driveway compactor and it does a great job!
The pour quite went well. All the forms are insulated, it is insulated below the slab and there is now 2″ of insulation on top of it plus hay in nooks and crannies. This should keep the concrete warm for the next week while it does the initial cure. We plan to leave the insulation on after that for as long as possible as we do the masonry and then the FC barrel vault.
This is 1/2″ (#4) RC plus 661010WWM and 1 lb of PVA RSC15 per cu-yd, 3% PolarSet, hot water and 0″ slump concrete. It sets VERY fast! It takes a lot of working but that stiff mix is supposed to be the best way to go in a cold weather pour from what I read. In the future I think I would cut the slump to 3″ for better flow and workability.
Total time today was about about 2 hours for pour and smoothing with four people (Thank you Charles, Will, Holly and also Ben for taking care of Hope!) plus the concrete company (Griswold) delivery driver controlling the truck.
More details to follow after I decompress. :)
49째F/33째F Sunny, Full Moon