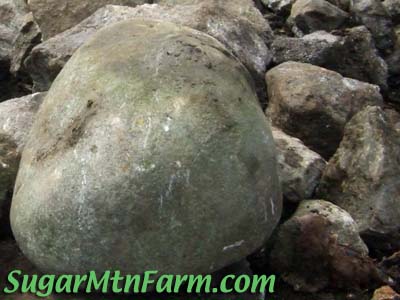 One of these rocks is not like the other… The large greenish one in the foreground is glacial erratica. I occasionally find pieces like this. Most of the rock around here is more crystalline, squarish, rougher and like the pieces in the background and this photo below of another alien rock with its local cousins.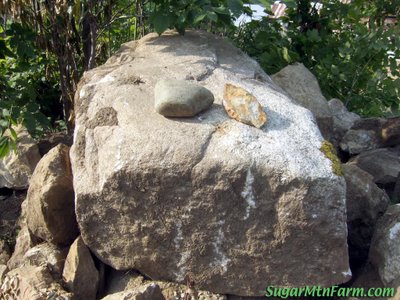 Perhaps our visitors may even have been polished in a far away river. Our altitude is too high and our soil cover too thin for these to have been deposited here by ancient rivers or seas so they were probably deposited up here on the mountains by glaciers.
By the way, speaking of glaciers, we finally got our first hint of frost on Saturday, September 30th, 2006. That is unusually late although the past three years it has been unusually late. Some of the pumpkin leaves, our most sensitive crop, and some ferns got a touch of frost. But it was light enough that the tomato and pepper plants were not bothered and other pumpkins are fine. A longer growing season is the silver lining of global warming's storm clouds.
65째F/39째F Sunny