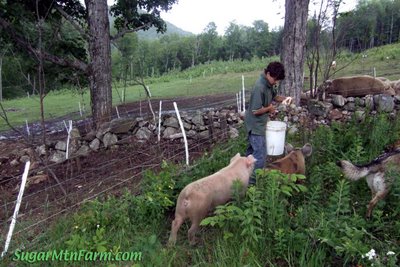 They say you can lead a horse to water but you can't make it drink. Fortunately pigs are easy to lead with a bit of food. This is Mark and Charlie, or Shark and Marley as I sometimes mistakenly call them. They are pig born this spring and had been over in the north home field with the poultry and we recently moved to the south field with the rest of the herd. The dogs are great for moving pigs but not everyone has such able bodied farm hands. Here my son Will shows another easy method for moving pigs – the promise of food.
The trick is to do this when they are hungry, say in the morning, with something that is highly appetitive like bread, boiled eggs, cheese, etc. Doing this around mid-day, especially if they have already had plenty to eat, is much harder as they may just want to nap.
One problem can be if you are moving them out of a place that had no greens and you take them past lush grass. They'll want to stop and sample the salad. Don't worry and don't rush. Let them have a chance to get some greens and then show them the special treat again. This usually works to get them going again. The key is patience. Don't move animals when you're rushing.
The same sort of thing works with most animals with just a little bit of training. Over time as you feed them you get them to expect you to offer something nice. Use the same sort of bucket for feedings gives a visual, and often auditory, cue of the pleasure to come. Rattling feed in a tin can before you feed is a great way to train this up. Then they'll follow you almost anywhere.
76째F/70째F Sunny