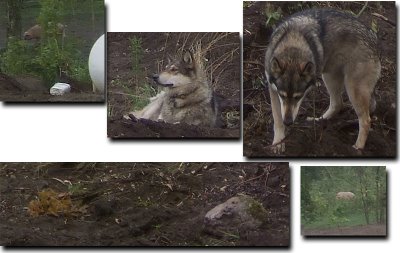 In Sunday's panorama of our construction site there were two dogs (that I can find). One of the dogs, the easy one, is in the foreground near the pond – lower right side of the image.
The other dog, looks much like the first (e.g., tri-colored) and is lying down facing left in the middle ground just to the left of the pond. This is the sister of the first dog.
I think the mysterious third dog that some people thought they saw is that pile of leaves below the second dog which due to stress (getting cut down) turned color and looks a bit like one of our dog's reddish coat. If it was otherwise, let me know! I couldn't find a third in the large version of the panorama.
Three acute eyed observers (angling for photo scanning jobs at the CIA?) noted the two pigs in the south field, one headed up hill and one headed downhill to the lower pig pond.
To those of you who succeeded in bending your screen around your face to touch your ears for the full 3D effect – Bravo! :)
"Education is a weapon, whose effect depends on who holds it in his hands and at whom it is aimed."
-Josef Stalin, July 23rd, 1934
73°F/67°F Sunny with spots of hard rain