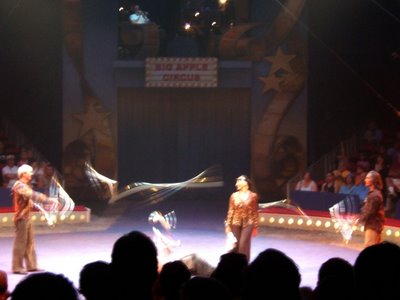 The circus came to town! Well, actually to Hanover, NH. The Big Apple Circus comes around every July. My parents take us all to the circus and then out to eat. It is a wonderful time. It is good to have traditions like this. The kids look forward to it for a long time and frankly, so do I!
It is hard to choose a favorite act, there are so many good ones. This year I think I would say it was the jugglers. They were fantastic keeping large numbers of clubs in the air for extremely long periods of time with great precision with apparent ease. They never goofed the whole time. The four of them just kept moving around the ring and the air stayed filled with flashing clubs. Amazing.
I especially like how the clubs appeared in this photo. The blurred effect really shows the motion. I don't usually take photos at the circus as the lighting is too hard and I don't want to use a flash. My new Fuji FinePix E900 that I got last year has much greater sensitivity. I gave it a shot using a wide aperture and slow shutter under compensating a bit to adjust for the bright lights. I captured several good images including this one.
Do NOT buy the Fuji FinePix E900 digital camera. See this update.
There is actually a fourth juggler hidden by the crowd in the middle. You can see his clubs moving away from us. During this technique, the woman juggler in the center would periodically reach into the middle of the flowing clubs and pluck one out. She would then send it somewhere else changing the pattern.
81째F/66째 Mostly sunny this week with 9″ of rain in two thunderstorms.