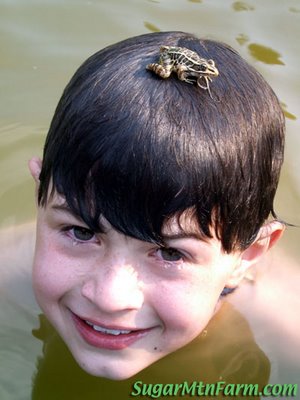 This frog is missing its right rear foot. No, it isn't one of those mutations caused by high levels of ultra-violet radiation or toxic chemicals in the environment. The cause is quite simple. You see, a fish bit it off. This frog is in our swimming pool. It started out as a tadpole. Ben, which the frog is sitting on, had collected a bunch of them from Mystery Pond up by the tree house and dumped them into the pool. Many of those tadpoles, and the subsequent bunch, got eaten by the fish who live in our pool. This one made it to adult size, or rather most of it made it.
Our pool has lots of life in it including daphnia, fish, two kinds of tadpoles, frogs and the occasional newt who drops in for a spell. The thing our pool does not have is any chlorine or other chemicals added to the water. This means it isn't the crystal clear waters of your typical backyard pool. That's a lot healthier and more pleasant for both us and the animal life in the pool.
The reason for the fish is they need somewhere to live. We bought them as small feeder comets but they have gotten quite large, perhaps 8″ long, over the years. They do a great job of eating up the bugs who would otherwise use the pool for a breeding ground. Most of all, the fish are fun to swim with. That right there is reason enough to go chemical free.
77째F/69째F Sunny