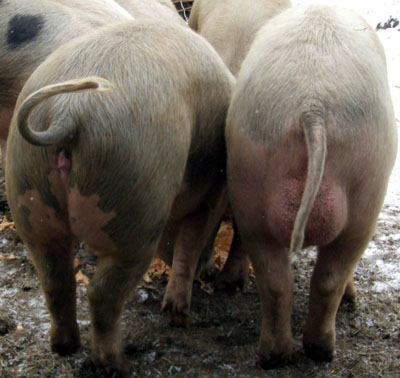 East end of West Bound Gilt & Boar
A couple of years ago we had a visit from a government agricultural official who was "here to help us". She was of the know it all type which made for some interesting bloopers on her part. I was showing her around the farm. We went over to the winter breeding corral for the pigs and she said "My, that is a very big sow!" She was looking at a side view of our boar Archimedes and all of his equipment was on display in all of its glory.
Okay, I thought to myself, she's a little sheltered… but I won't embarrass her by correcting her…
On we went. Later she said she had cattle and bragged about knowing all about breeding livestock. I bit my tongue.
So, in order to educate everyone so none of us make this same mistake I present you today with the essential difference between a boar and a sow. Consider it a bit of piggy porn. (Wow, that is going to mess up google.)
The photo above shows a nice young sow on the left and a handsom young boar on the right. Just below the gilt's tail is her anus and just below that is her vulva with her "little pointy thing" as Archie calls it. Archie, the pig farmer from whom we got our boar Archimedes, says that when a sow gets pregnant the "pointy thing" points up and he is right. I suspect that this is caused by the uterus becoming heavy with the growing fetal piglets which then hangs lower pulling on the vagina and indirectly on the vulva. By the way, the difference between a gilt and a sow is the sow has farrowed (birthed) while the gilt may be pregnant or not but she has not yet had piglets.
On the boar, below his tail and anus, there is a large sack containing his testicles. This can be easily seen from the side or back. For those of you who have dealt with cattle and sheep you can see that banding boar balls is not a possible castration technique since they are held up close to the body and there is no slack. This means that castration requires cutting – hence the term "a cut piglet". This is not a pleasant task for the young boar piglet who is soon to be a barrow, the person holding or the person cutting. I've written before about how castration may not be necessary and boar meat, at least with our pigs, seems fine with no traces of boar taint. By the way, the difference between a boar and a barrow is all in the balls – the latter lacks 'em.
Just to complete your pig spotting education here's a side perspective view of a sow:

Our Matron Sow – Big Pig
Big Boar – look below belly and behind back legs.
and a side perspective view of a boar:

Awe… who couldn't love that cute face! He's such a goof-ball!
For a photo of two little boars and a big boar see tomorrow's post.
So remember, the government may claim to be here to help us but they don't necessarily know all the answers…
77째F/69째F Sunny, Spot of Morning Rain.