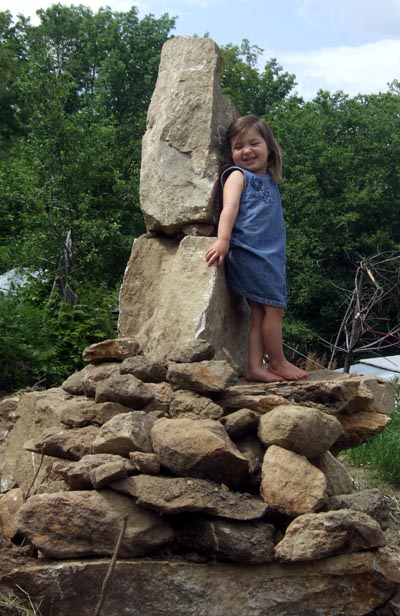 Yesterday I took an oil bath. Hydraulic oil. The pressure had built up in the lines in the 4-in-1 black bucket (a.k.a. "Jaws!") for the tractor. The bucket has been sitting in storage since last fall when I took it off during cool weather. In the winter I run the tractor with the wide green bucket for snow plowing but in the summer Jaws is wonderfully useful. The weather is now considerably warmer so the hydraulic fluid had expanded in the lines for the two pistons that move the jaws on the 4-in-1 bucket. When this happens I can't connect the lines to the tractor until I relieve the excess pressure. There are two ways to do that:
1) Use two wrenches and take apart the quick connect fitting. This often destroys the o-ring and wastes a fair bit of oil.
2) Use a flat ended rod and a mallet to tap in the seal pin inside the fitting. This risks a spray of oil which is how I got my oil bath. On the plus side it wastes very little oil and saves the o-ring. Do wear glasses to protect your eyes!
The other trick is doing this early in the morning when the bucket is as cool as possible so the pressure buildup is minimized. Unfortunately I did it late in the afternoon – bad planning!
I needed Jaws because I'm making a cairn. The cairn isn't to mark anything, I just need to put the rocks somewhere. Building the Cairn was like playing with giant kids building blocks made of granite – Not at all like the round rocks a certain person collects. Those would be far more challenging to stack.
The bottom rock, just visible across the bottom of the photo, is about 8′ x 18″ x 5′ which is close to the maximum of the tractor's ability to move. The rock on top of the base rock is about 4′ x 4′ x 2′ and went up very smoothly. The next several are much smaller – roughly cubes about 2′ x 18″ x 2′. After adding each block I shim it. Even without the shims this pile is amazingly stable and unmovable by hand because the rocks are so square. Will & Ben helped me rock pick the new section of road – thus all the smaller pieces piled on the base rock below Hope in the photo. The total cairn ended up being about 7′ tall. Someday, when I have some free time, I'll use the rock to build more stone walls. :)
76째F/68째F Sunny Summer Solstice