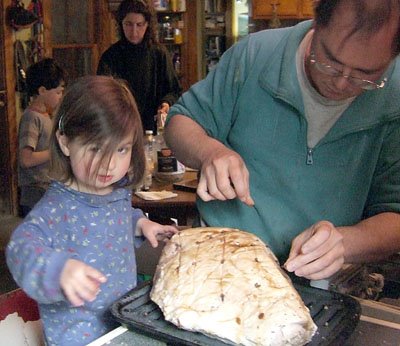 That ham is from an uncut boar and a delicious Easter Ham he was. The first bite was mouth watering ecstasy. A true soothing of the pallet and soul as my taste buds gave thanks for this pig I had grown. His life enriched my family's life, both in his living and his eating. He is a truly appropriate feast with which to celebrate this day as he rose again after brining to bake.
These hams and two sides of bacon have been brining for the two weeks. We are fortunate to live inside a giant cooler, and for many months a year, a giant freezer. In the shed at the far end of the house the temperature stays a nice 40F for much of the year. This is where we hang the sides of meat we slaughter for our own consumption and then store the pails of brining hams and bacons. These temperatures mean that I can let meat hang and brine for long periods which brings out its greatest flavor.
About this time of year the cooler starts to warm as the world warms into spring. This is a time when having a modern electric cooler walk-in would make a big difference in how we do things. But I don't have one.
I do have an alternative in my plans. We get our water from a spring up the mountain from the house. That spring is an almost constant 45°F or so year round. In the summer it is deliciously cool. In the winter it warms the ground and melts the snows around it for a long distance in all but the harshest weather. This is the spring that fed the ice sculpture all winter. It also watered the pigs, sheep & chickens and provides us with our household water as well as water for all of our gardens. Later it flows to the upper and lower ponds where it nourishes frogs and many other denizens as well as cooling pigs and little boys in the summer. Ultimately if flows down to the marshes and then down the valley to join the Waites River, the Conneticut River and finally the Atlantic Ocean. Someday I hope to give this water flow another job, keeping an earth sheltered spring house cool through the warm months. Until then I'm only makin' bacon during the colder months of the year.
The modern way of doing hams and bacon is to send it out to a smoke house where they'll cure it for you in their massive electric cooler and then smoke it, preferably with maple syrup. That is rather expensive. I have sent meat there for customers but for our own needs I use a bit simpler method. We brine the hams and bacon in clean five gallon plastic pails. Perhaps someday I'll experiment with smoking but that is for another year.
In brining, plastic pails are important. They are easy to sterilize with a bleach wash, have snap on lids with gaskets that make a good seal and the plastic does not corrode with the lengthy contact with the salts in the brining solution. You can get good food grade plastic five to seven gallon pails at many restaurants and bakeries. Be sure to do a good job of cleaning the buckets and their lids. I scrub with hot water and soap until they look spotless, then triple rinse. I then wash the lids with a bleach solution. Lastly I put about half a gallon of hot water in them with a strong bleach solution (1/4 cup) and snap the clean lid on tight. I tumble this around a little and let it sit until I'm ready to use it. This keeps it clean and sterile enough.
The brine I use is a variation of one I found on an excellent web site that has vanished. I make a few changes, the most important being that he uses Prague #1 Cure in his brine and I skip that. It contains Sodium Nitrate and Red Dye #3 which I would rather not have in my family's food and can skip for home cooking since we're not doing long term storage. The purpose of the nitrate is the long term storage. The purpose of the red dye is simply to make it look different from regular table salt which it could otherwise be easily confused with.
Let me be more specific: Sodium Nitrate is a poison. It is found in much higher concentrations in many common vegetables like spinach, celery and even your own saliva. It is supposed to poison things to preserve them. This is not a judgement – it is just what it does. That is how it cures the meat and kills bacteria to prevent botulism. The amount used in curing hams and other things is very, very tiny – way below the lab rat threshold that causes cancer. Some studies link some nitrate/nitrite to preventing stomach cancer.

I would rather not use either in our meats more than necessary.[1] I grew up in the era when nitrates and nitrites were labeled as cancer causing. Research shows that many vegetables like spinach, celery and such have far higher levels of nitrates than were ever used in meats.[2, 3] Recent studies show that some levels are actually good for us and prevent stomach cancer and possibly other cancers.[4] I expect that we'll learn more in the coming years about the relationships between these things. for thousands of years we have used nitrates/nitrites to prevent botulism and other food poisoning. The jury in my mind is still out. I prefer not having them in my food or to at least minimize them. See this article about How to Brine a Ham for how we brine at home without nitrates or nitrites. See this page for more interesting discussion on this topic. With our hot dogs, kielbasa and other sausages we have no nitrates or nitrites. The smokehouse who does our bacon and hams does use a minimal amount of sodium nitrate in them. There is also a 'natural' celery juice cure that some smokehouses use which I may look into but that is in truth nitrates so don't be fooled by labels that claim no nitrates but then list celery powder or celery juice. Truth is, celery, spinach and other vegetables have far, far higher levels of nitrites/nitrates than hot dogs, ham or bacon.

This is a topic that can be quite confusing. It seems prudent not to use it in our meat if we're not aiming for the long term unrefrigerated storage given that we are trying to produce healthy food for our families. Thousands of years ago it was developed because people didn't have refrigeration. I'll continue to read the research and until it gets more resolved I'll just skip the Prague Cures.

Update 2017-12-23: Over the last year I've been experimenting with celery powder. Most of them on the market give wildly different nitrate/nitrite levels but there are metered versions. I like the flavor that results and the meat is red – after all this is nitrates/nitrites. So that is an option for those who want a 'natural' source.
Another ingredient of the Prague #1 Cure is Red Dye #3 which has been linked to breast cancer. Again, something I would rather not have in our food. The dye is there to warn you that the pink salt is not regular salt because if you used it in the same manner as regular salt it could kill you. Too much of a possibly good thing. Thus the red color.
In my personal opinion, if you are going to eat the hams soon, possibly refrigerating, or will freeze them, then you do not need the 'cure' part of the recipe. I have been brining without that ingredient and am very pleased with the results. It will be a grey color rather than the rosy pink of commercial hams.
Another change is I don't have Pickling Spice per say. Rather I spice to taste. For lamb I use thyme. For ham and bacon I use cloves and black pepper. Spice to suite your tastes. Experiment. If you have it I would suggest adding one cup of maple syrup for bacon. If not I would recommend adding an extra cup of brown sugar.
Brine Recipe
3 gallon Water
3 cup Pickling Salt (I have also used table salt)
1 cup Sugar / maple syrup / brown sugar (to taste)
2 tsp Spice to taste (thyme for lamb, black pepper & cloves for ham)
Prague #1 Cure –optional!


On the Prague, see the instructions that comes with it. From the web site:
Use 1 oz. of cure for 25 lbs. of meat or 1 level teaspoon of cure for 5 lbs. of meat. Mix cure with cold water.
This does about 30 lbs of meat.
I boil the water to sterilize it as much as possible and to make it better dissolve the sugars. Empty the clean buckets of their sterilizing bleach solution and carefully pour in the hot water. Add the ingredients and stir. Once the ingredients are mixed, cool the brine to 40°F before you add the meat the to the brine.
When you add the meat, make sure it is completely covered by the solution. If you have a large piece of meat, like a ham, you may want to either debone it or inject the solution into the depths of the meat in order to get better penetration. You can get special syringes for doing this and they are worth having. Mine cost only $5 at a local store.
Finally snap the lid on and place the bucket in a cool place (38F to 44F is good) for four days to a week depending on how salty you like your meat. Higher temperatures risk bacteria growth – not good. Lower temperatures cause the brine to stop working. I keep a calibrated thermometer on one of the buckets.
Realize that I am telling you what I do. I'm not advising you on what you should do. I'm not an expert, licensed, certified or anything like that. Making your own cured meat carries a risk of food poisoning and all those nasty sorts of things. You are living life and taking risks. Be careful. Don't drive on the wrong side of the road. Maintain good sterility and proper temperatures. Wash your hands and surfaces to keep your meat from getting contaminated. If the meat spoils, don't eat it. If you are unwilling to take these risks for yourself and your family, don't do it.
All that said, our Easter Ham was most delicious!
"We must become the change we want to see." -Gandhi
44°F/21°F, Snow in the morning, Sunny.
Note there is the option of using curing salt (Prague #1 Cure) or celery salt (another source of nitrates/nitrites) in many recipes for corning, bacon, ham, etc but that isn't necessary if you have refrigeration. If you're just salting for flavor the amount can vary based on your tastes. Cure (Prague or celery) does change the color of the meat making it redder – this is a side effect of the chemical reaction and not due to the red dye used in the Prague. The red dye is to warn people that the nitrate/nitrite salt is not regular salt since a far lower dose can be toxic. The purpose of the toxicity is to kill bacteria. The color change in the meat doesn't come from the tiny amount of red dye but rather from a chemical change in the meat. The coloration is really just a side effect that people have come to associate with the curing, it isn't the goal. See:

"Curing meat involves adding nitrite or nitrate among other ingredients such as salt, sugar and spices to fresh meat. Most commonly nitrite is added to meat because the cured color reactions occur faster and more reliably than nitrate. The nitrite, usually dissolved in water, causes metmyoglobin to be formed, which causes the meat to turn brown. Eventually, the brownish colored meat will form the cured meat compound, nitrosylhemocrome, when the product is heated. The nitrosylhemochrome is a pink colored pigment that is heat stable. This pink "cured meat" color will continue to be pink when it is cooked as well as if the meat product is reheated multiple times."
–Cured Meat Color.

Also see this article on ham brining and this article on USDA cure regulations for more thoughts on the topic of curing.