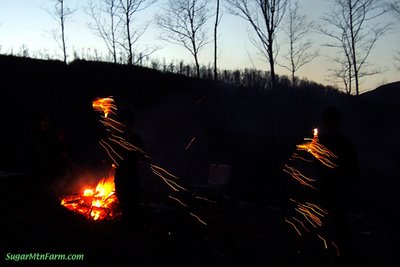 The weather has been exceedingly fine, warm and sunny. Amazingly, we have lost almost all of our snow. It is only the end of March and usually we still have a couple of feet of snow on the ground. Down in the valley, on the southern facing slopes, there may be snow free patches by now most years. This year their grass is already greening.
With the minimal snow we got this year, I'm a bit worried that it may be a dry year. We're located on the eastern slope of the mountain with strong springs so it won't affect us personally that much, but all of our neighbors had to drill new wells just a few years ago when there were two successive dry years. Hopefully their new wells will carry them through this year if it is dry. The dry weather may limit our traditional bonfire cookouts which we make from sticks and brush as we clean the fields.
Since conditions were perfect, some snow still around and the ground being a bit wet, yesterday was a double bonfire day, one at mid-day and one in the evening. This month's header photo is looking into the burned down remains of a bonfire from earlier this month when we still had significant snows. A bonfire after sledding is a wonderful thing. Now with the temperatures up in the 40°F range Ben and Will thought maybe it would be too warm for a bonfire. It wasn't at all, especially once the sun dropped below the ridge.
Each Fourth of July Will and Ben buy extra sparklers down at the general store and save them in a jar for evening cookouts. The photo above shows the sparks from both of their sparklers as well as the fire's sparks in the night. Behind them is Sugar Mountain.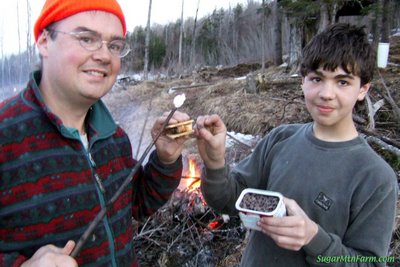 One of our Australian friends asked what a Smore was. This is a perfect smore. The basic smore is a toasted marshmallow and a slice of chocolate between two graham crackers. However, if you don't have chocolate bars, innovate and use chocolate chips as we did tonight. When you pull a hot marshmallow off the stick it often leaves the core on the stick to be re-roasted. Fill the hollow shell with chocolate chips and then sandwich it between the graham crackers. Deliciously decedent!
Thursday: 47°F/21°F, Sunny.
Friday: 51°F/27°F, Sunny.