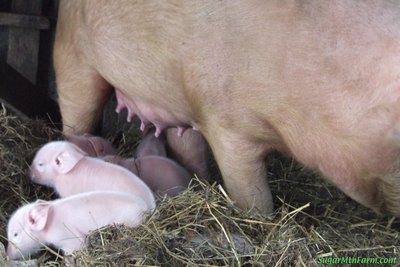 Yesterday morning Flop, one of the three youngest daughters of Big Pig, had her piglets. Her sisters should "pop" any day.
Meanwhile in other news the weather can't make up its mind. It snowed very lightly most of the day from a blue sky onto muddy ground. The top two inches of soil has unfrozen and large patches of the fields are now barren of snow. This is very unusual for March at our place. Even April usually means several feet of snow on the ground here. The pigs and sheep don't mind though, they've been going out into the rough pasture and nibbling on the buds of the brush at the far end.
37째F/21째F, 1/10″ Snow, light Flurries in a blue sky, Partly Sunny.