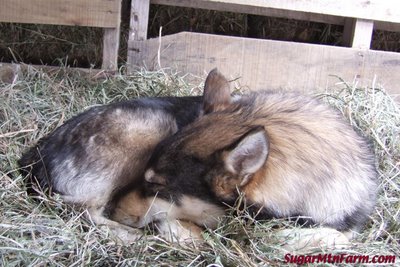 This is Kavi, one of our fourth generation guardian dogs. As an adult he will likely look just like his mom and his aunt Kita in coloration. Here I caught him sleeping on the hay in the piglet's shed on a crisp winter morning. He has been learning to guard them. Mostly I have had him work with the piglets and chickens although today he spent much of his time training with Kia and the finisher pigs and three boars we have kept back.
Kavi is exceptionally intelligent. In that respect he is much like his great grandfather Coy and he has Coy's happy but focused personality. He is already showing herding skills at age six months which is very early. Last week I had let the chickens roam out of the garden area where they were in for the winter. Then I put Kavi in with them and he carefully moved them all back. We closed the door but then he found one more which was not cooperating. Kavi took its wing in his mouth and gently walked it over to the gate and then with his nose he shoved the bird through the hole below the gate. In it went despite the chicken's protests. I was quite impressed.
Kavi also gets along very well with all the other dogs. He is a team player. He has the strength to lead but is also able to follow and not so foolish as to challenge the big dogs. Failing to know your place in the pack hierarchy can be a painful experience when the big ones are not only experience but out weigh you by a factor of two and a half. Napoleon, who got his name because of his very early personality trait, learned the hard way with Kita, Saturn and Cinnamon. Fortunately he did learn and now fits in well. Interestingly, in Napoleon's case, his own break through seemed to come when he had Kavi and Kira, smaller puppies, to play with. When the much smaller puppies started playing with him he gentled and became more focused and really took off on his training at a more typical age.
Another thing I watch for is how the dogs interact with inanimate objects. Kavi is a manipulator of things. He moves objects around, explores them, picks them up and carries them, uses them to communicate, twists door handles, opens doors, etc. This goes way beyond the simple puppy mouthing of everything in sight or chewing. He is also able to learn "No Touch" and remember what objects are things he should not play with. Another dog Kia uses objects as communications tools and carries things. So does his father and grandfather. His great grandfather Coy carried tools between us on the mountain as we worked the sugar bush during tapping for maple sugaring. Coy's manipulative skills went far enough that he understood to pickup a knife by the handle, not the blade – fine distinction. All of them fetch trash out of the brush along the sides of the road for me. This may sound like a trick but it shows how they interact with their environment. We have had a few dogs that just don't do objects. They don't make that jump in thinking. This leaves them less flexible and less able to learn new skills. So I watch for it in puppies.
We have had a number other dogs that show these sorts of herding and manipulative behavior at a very young age. They have all turned out to be exceptional guardian and herding dogs. Usually I have to train more even for basic work – to get them to push the chicken under the gate takes more than training. Kavi's a natural.
15°F/2°F, 1/10″ Snow, Flurries, Partly Sunny, Windy.