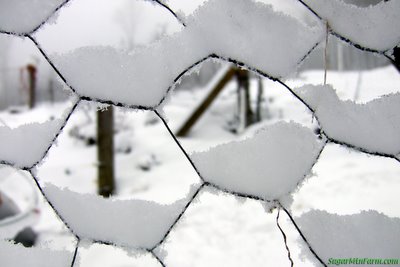 There is still hope for winter. It has been extremely dry this year and rather warm to boot so we have only a little snow but this week we got another foot. The kids would like to be out snowboarding but the high winds have made that less than appealing. Even the big pigs and the sheep have tended to stay in their dens rather than wandering out onto the snow covered pastures.
With these winds I have been surprised we did not lose power. My guess is the other two big wind storms we had this fall and last month cleaned out the deadwood that would otherwise fall on the power and phone lines. The utility companies have complained after each storm about how they had to spend millions of dollars to repair the damage from falling trees. What I don't understand is why they don't put the wires underground. Yes, it would be more expensive initially but they would save money in the long run and provide better service. I asked some questions of our electric coop and gleaned some info from their newsletter to come up with an estimated payback period of 15 years or less.
On the other hand, at this point encouraging people to go independent with solar panels and other forms of micro-generation may be a far better solution. That is my own goal.
Tuesday: 12°F/-12°F, 3″ Light snow flurries, Sunny, High Winds
Wednesday: 14°F/-6°F, 1″ Light snow flurries, Sunny, High Winds
Thursday: 14°F/-5°F, 1/2″ Light snow flurries, Sunny