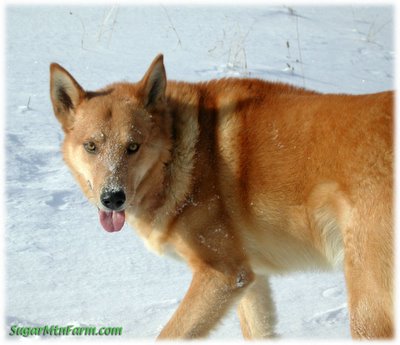 Cinnamon working out in the field.
To guard and herd our livestock we have a pack of large livestock guardian dogs. They average about 80 lbs as adults and are very physically active so they eat a fair bit of food. The entire group weights about 500 lbs for the seven which includes one puppy which is at about 40% of his likely adult weight. Yesterday someone asked what we feed them. It is less a question of what we feed them than of what they eat. Their diet is a combination of the following.
Kita training to eye the sheep.
Dry dog food – about 0.25 lbs/dog/day on average but it varies with what else is available. Sometimes we have the dog food out and available and they eat what they want of it which isn't very much. They go through a 50 lb bag of dog food in about 10 to 20 days between the seven of them. That isn't much for big active dogs. Ideally I would like to drop the commercial dry dog food completely but there are times when we don't have enough of the other good foods so they get 'cereal' which is what the dry dog food is the equivalent of. The biggest reason I would like to drop dry dog food is worries about the cases of contaminated food like recently happened from one dog food company that killed many dogs. That is scary. The second reason is it is one of those, "who knows what is in it" things – it certainly is not as good as their other foods. The last reason is buying commercial dog food is expensive. Commercial dog food is one of the things the dogs call "Not Meat" with an extra negative. They'll eat it but it is not a favorite.
Critters – Mice, chipmunks, squirrels, birds, snakes, etc that they catch in our fields and around the animal areas makes up a surprisingly large amount of their diet. I have watched a single dog scarf down fourteen mice in under half an hour out in the field. They are very efficient at catching mice, voles, snakes (think spahgetti), etc. Working as a team they clean up the chipmunks – one chases the chipmunk into it's hole while the other is at the back door ready and waiting. Then they switch. Hunting while they're out in the fields watching over the livestock is one of their great pass times. I have read that in the wild small animals like mice make up most of their diet. In doing so they clean up small pests and predators which would otherwise be a problem on the farmstead as well as a potential reservoir of rabies.
Eggs from our hens which we feed them some every week. I have read that they can digest the egg whites better if they are cooked. Sometimes I'll cook them if I have a whole lot of eggs I want to feed out but usually they get the eggs raw in a bowl. I teach them not to eat eggs in the shell as I don't want them stealing eggs from nests.
Dairy – Milk, yogurt, cottage cheese & cheese trim some of which they snarf when the livestock are eating and some of which we feed the dogs. We get cheese trim from the local dairy. Small pieces of cheese make great training treats as do cubes of meat and peanuts.
Bread which they snag when the livestock are getting fed occasional treats such on loading day each week.
Their share of the harvest when we butcher livestock. This includes the heads, feet, often the skins which the dogs love, organs which are another favorite of theirs, the bones after we make soup as well as any trimmings. They eat all species, ducks, chickens, guineas, pigs and sheep. Growing up I was taught not to feed chicken bones to dogs but it is a non issue at least with our dogs. Thinking about it, they eat birds in the wild and the field. I feed the bird bones to the dogs both uncooked and cooked. Big animals I prefer to slaughter in the cold weather because then it is easier to keep large amounts of meat and trimmings fresh for the dogs since the outdoors is a giant refrigerator for a goodly part of the year. Anything from warm weather slaughter must get fed more quickly or frozen. I suppose I could can dog food, after all we can a great deal of food for our own use. That would be a fair bit of work and during the summer months the mice are plentiful.
Lastly the dogs eat the dead. This may gross out some of you. I hope you aren't having breakfast but the dead are food. I would not feed them diseased dead but that isn't something we've had. When livestock are born sometimes there are some that don't make it. Out of 66 piglets born in six farrowings this winter there were an additional three that were still born and six that didn't make it. Generally there is a congenial defect and they never would have grown up healthy and vigorous. Nature culls these often as still births or they don't make it through the first 24 hours. This is a fact of life. Kita, Saturn and Cinnamon visit the farrowing spaces and clean out the dead. The sows never contest it – they don't want the dead around either. This is a part of the job of the dogs and it prevents disease from developing within the livestock should a dead piglet or chick get undiscovered by one of us. It also prevents flies. The dogs never hurt live animals under their care, rather they are very protective of them, but if an animal is dead they clean it up. Interestingly, Kita brings it to me if she finds it herself and shows me the body. This is handy as it gives me a chance to check it over and evaluate what the issue was that caused the death.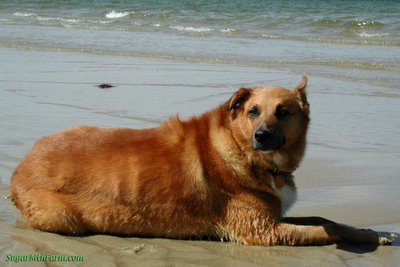 Coy, the grand-sire of our pack, during a retirement day on Cape Cod.
Unfortunately this is one of the only photos I have of him.
When he was younger and not so beat up by the rough life of ranching
he looked just like Cinnamon and Napoleon.
The dogs get a good diet, not all that different from what we eat although we eat a lot more veggies than the dogs and I skip the dead piglets and chicks. I also prefer my meat cooked. As we improve our year round farrowing we'll be doing slaughter year round and that may increase the move away from commercial dry dog food.
Related: Moving Dog Dishes
5°F/-9°F, Light snow flurries, Sunny, very high winds, bad wind chill