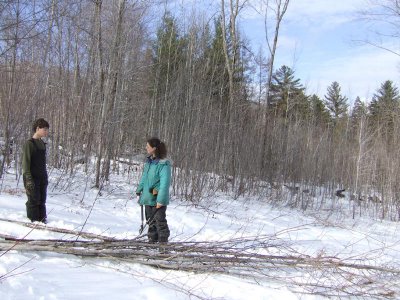 We use a lot of saplings. Good thing they grow so fast! It is very handy to have a patch of brush that is growing up toward tree height. The tighter they are packed the straighter and narrower they grow. These are thin enough at about 3″ diameter at the base to be easily cut with a large pair of geared loppers. This makes for excellent hardwood and softwood posts for all sorts of projects around the homestead from fencing to gardens. The branches get cut off and either given to the livestock to munch on or bundled up and dried for kindling and tinder in the wood stove.
On this particular day we were cutting posts and beams to be supports for the greenhouse tunnels we were building in the garden. These are simple affairs – you may have noticed them in some of the past photos. Basically four posts set in a line in the ground with an iron tamping rod to make the hole. Then a 20′ long sapling goes across the top of these to make a ridge pole. Next we laid 6666 Welded Wire Mesh over this to form iron cages and tied them together with twine. 6 mil translucent sheet plastic went over the structure. Presto, magico, instant greenhouse.
It is still pretty cold inside the greenhouses right now but they have already melted the snow down to bare ground underneath each one. The soil there will warm much faster than the rest of the soil so we'll be able to plant earlier in those areas and use them for starting seedlings as well. This extends our rather short growing season.
During the summer the plastic can be rolled up to get ventilation. By leaving it part way down it creates a warmer space than we can otherwise get – perfect for watermelons I hope!
Friday: 18째F/2째F, Snow flurries, Sunny